The girls of Malimba Community School after receiving their Reusable Menstruation Kits, and an educational talk on reproduction/puberty, January 2023.
When we learned about the NGO 16 year-old Ruben Chung founded we wanted to find out more. Ruben, a year 12 student at the International School of Geneva, told us, "I founded an NGO: Serve4Good: focusing on keeping girls in school in developing countries as absenteeism is a big problem due to their roles to fetch water. Because of their monthly menstruation cycle, girls end up missing about 25-30% of the schooling that their male classmates get. By the time they are in their teens, that is years of education they don't get. Many end up just dropping out."
Ruben admits that It all started out when he organized a tennis match for his friends during COVID, that the idea was sparked.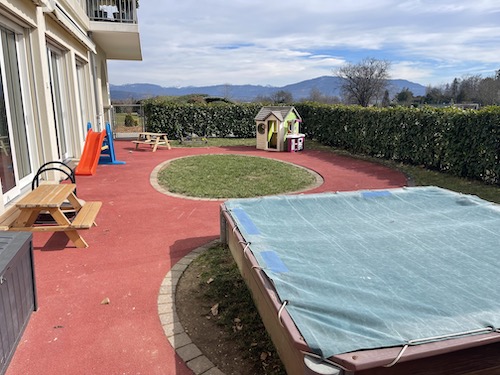 When Jessica Taylor-Hall reached out to knowitall.ch to let us know of her recently launched Fun4Kids, offering flexible childcare solutions for children aged 2-5 during the canton Vaud school breaks, we had to find out more.
Jessica writes, "It is often challenging to find childcare solutions for the 2-5 age group when many childcare places close during the school breaks. We offer bilingual camps and are located in Coppet.
"We are fortunate to be able to use the premises of an existing kindergarden (l'Ile aux Enfants), ideally situated in the prime residential area "Les Perrières" in Coppet. It's 5 minutes' walk from the train station and we have parking spots available. It's also next to the school "Necker", two playgrounds and we have plenty of green space for the kids to have fun!
Fun4Kids was launched in March 2023, with their first camps during the Easter Break 2023, see details below.
Why did you start? What has been the inspiration?
My husband and I both work full time and are blessed to have two wonderful daughters aged 2½ and 4½. We would sometimes find ourselves in a tricky situation during school breaks as we couldn't always find adequate childcare solutions, especially because of our kids' young age. We found that there are quite a few offers for camps and activities during the school breaks for kids aged 5 and up, but nothing much for kids below that age, so I started entertaining the idea of doing something about it and filling that gap, and when the opportunity presented itself I created Fun4Kids.