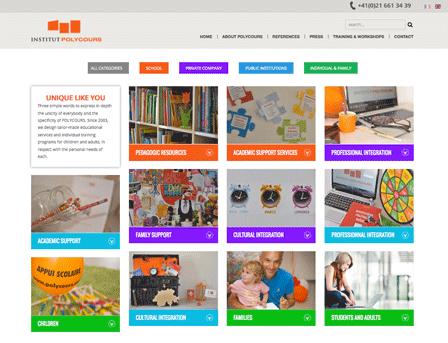 Institut Polycours has just celebrated its 10th birthday with the launch of a new website, outlining the wide range of education services it now offers the local community of Lausanne and surrounding areas. At the same time, the organization has just relocated to impressive new office space, allowing it to provide a larger choice of services in-house.
Founded by Laure Caron in 2003-4, the organization offers educational support services ranging from social skill coaching for teenagers and language courses for adults, through to special needs support for children and professional development training for schools.  Polycours also offers considerable support for families who are either in transition, struggling to find the right educational setting for their children, or who have been living in the region for a while and need help identifying the right kind of support for their needs.
Polycours draws its expertise from a core team of 5 specialists, covering academic support, school integration and child care, and a further sub-team of academic support specialists covering family therapy, clinical and educational psychology, speech and language therapy, early years support and special needs teaching.  In addition to these specialists, the organization works with a number of independent consultants offering services such as occupational therapy and mindfulness training workshops.
At a recent meeting set up to welcome clients to their new offices in Lausanne, Laure explained the Polycours structure to knowitall.ch, "Since Polycours was first set up ten years ago, we have seen four distinct client groups emerge, namely schools, private companies, public institutions, and individuals/families. Schools are keen to take advantage of the considerable pedagogic resources we have available, as well as many of the academic support services that they are not able to provide in-house. Private companies, on the other hand, make frequent use of the professional and cultural integration services that we are able to offer employees, as well as family support for those who have just arrived in the region."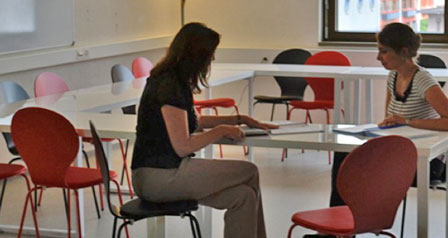 She continued, "Public institutions and private individuals/families require many of the same services, but one of the areas which is seeing a huge increase in demand is academic support.  Families are becoming significantly more demanding when it comes to asking for support for their children, so we have been quick to respond by establishing a comprehensive network of both internal and external specialists catering for their needs."
Academic Support Director, Stephanie Walmsley, has her own multi-disciplinary team of teachers and therapists who work together to provide holistic academic and therapeutic support to students and their families. Operating at both the Polycours center in Lausanne, and at clients' premises, Stephanie's team tailors its services carefully to the individual needs of its students. Stephanie told us, "In many cases an assessment is required prior to setting targets to be achieved. Sometimes this can be as simple as arranging extra tuition for learning English or French, but it may also be as complex as diagnosing a learning difficulty and developing comprehensive educational strategies to address it."
To help families benefit from the experiences of others in similar situations, Polycours also sets up regular Parent Forums, which encourage dialogue between parents and education professionals over a welcoming drink and cake. In addition, the organization arranges regular seminars on a variety of informative subjects such as dyslexia and ADHD.
To find out more about the services offered by Institut Polycours, visit the new website at www.polycours.com. or contact Laure Caron directly at the address below.  Those living in and around Geneva should note that Polycours will be expanding its services to this region towards the end of January 2015. More details will be announced on www.knowitall.ch shortly.
Institut Polycours
Avenue Sévelin 28
1004 Lausanne
021 661 34 39
This email address is being protected from spambots. You need JavaScript enabled to view it.
www.polycours.com