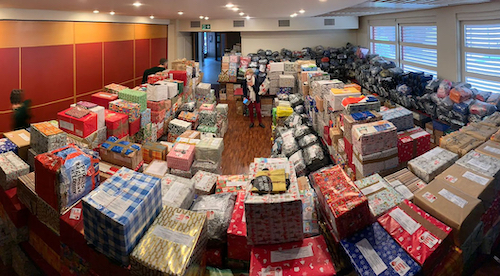 We caught up with Tyrrian Livesley who continues to make a difference in children's lives for the last 27 years. We write an article each year and are happy to bring this cause to our readers' attention.
Gift Box Project Collection 2023
6-20 November 2023
Tyrrian writes, "As we approach the end of 2023, we hope that we can count on your donations once again, helping more children. This year their needs are greater than ever. Especially in Moldova and war-torn Ukraine many children are hopeful someone will help them. Please be that someone! As we all know the war is still continuing in Ukraine resulting in many displaced children, the poorest of children and many who have lost their families. There are also the handicapped and families barely surviving through these terrible times, living as refugees in their own country, Ukraine."
A gift box is filled with school needs, toiletries, sweets, chocolate, biscuits, toys and warm scarves, gloves or hats etc. It does not sound much but such a box will make a big difference to a child who has very little. For them it is a dream come true, bringing moments of happiness.
As we approach the end of 2023, Tyrrian hopes that the Gift Box Project can count on your help and donations once again. Your boxes will bring help, joy and lasting pleasure to these children,who have so little. A gift box can make such a difference to their lives. This year they aim to help even more children whose families have been impacted by not only COVID-19 but the resulting illness, death, loss of jobs, closure of schools and childcare facilities in their communities.