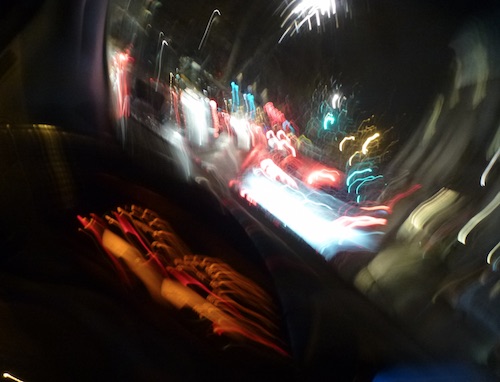 As we approach the holiday season, many of you will be out and about, dining with friends, partying in town, or having a drink after work with colleagues.

If you're planning to have a drink, be sure to plan ahead and make arrangements for your return home — if you're driving, then you need to remain below the legal limit (Swiss limits and French limits) and if you're not, then you need to make sure you have a sensible means of transport back home.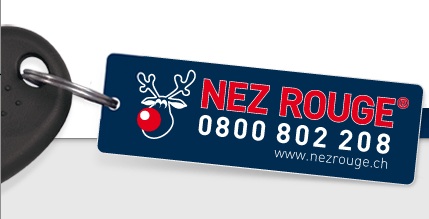 If you can't rely on friends to give you a lift home, and if public transport is not an option, think about putting some extra money in your purse for a Swiss taxi or French taxi home. At this time of year, fees can be extremely high, so be prepared.

When your plans change, and you find yourself in the middle of nowhere, having set out in your car but having drunk more than the legal limit, DO NOT be tempted to get into your car and drive home. Instead, call up Nez Rouge, a volunteer organization set up in 1990, which will arrange for a driver to come out and meet you, and drive your car home! In French, Nez Rouge translates as Red Nose... a double meaning for a drunken person's red tinted nose and the Christmas story of Rudolf, the red-nosed reindeer.

When you call up their free number, 0800 802 208, Nez Rouge will send two volunteers to drive your car home (one driving and one assisting at the back of the car), both of whom will be followed by another driver in a Nez Rouge car who will return all volunteers back to base.
New law as of January 1, 2014. Drivers must drive with their headlights lit at all times, including daytime.
Cars, trucks, delivery vehicles, buses, and motorcycles will be obligated to drive with their lights on. Drivers who do not follow this requirement shall be fined Fr. 40.-.
The daytime use of headlights will not be required for mopeds, electric bikes, and cycles and vehicles put into circulation before 1970.
Photo by Laurent Caudéran
If you drive a car, the chances are that you have, at some time, become frustrated by the process of trying to pay for your place at a parking meter – either because you don't have the right change, or you have to spend ages keying in bank card details.
In Lausanne, this problem is rapidly disappearing with the introduction of a new range of parking meters covering up to 2500 places throughout the city.
Manufactured by Parkeon, in collaboration with Parkomatic, the new meters will enable customers to pay with bank cards using contactless technology – but will also accept coins, or allow payment using bank cards that employ traditional insertion technology. For security reasons, the contactless method only works for payments less than Fr. 40.-. Payments above this amount will still require your PIN code.
125 of the 140 designated machines have already been installed throughout Lausanne, which is the first city in Switzerland to take advantage of this state-of-the-art technology. Similar machines have also been installed in Italy, Poland, UK and France.
Source: http://www.24heures.ch/economie/lausanne-innove-stationnement-carte/story/10595661
With Spring upon us and Summer not far round the corner, it is time to start thinking about changing your Winter tyres for Summer ones.
If you've ever had to change your tyres before, you will know what a time-consuming task this can turn out to be. Either you head out early in the morning, before work, and be prepared to wait in the line at your chosen garage. Or you take time off work to slip out during the day and take advantage of the shorter waiting times.
If neither of these options appeals to you, you might like to consider employing the services of Multiplicity, a personal concierge service, operating in the canton of Geneva. Multiplicity will arrange an appointment to collect your car with the tyres in the boot from your home or office and then return it to you after the tyres have been changed.
So if you want to avoid the mad rush, call Multiplicity on 022 349 4617 or visit their website on
www.multiplicity.ch
.
From April 1st, 2010, all children up to 12 years in age or under 150cm in height must use a car seat/booster within Switzerland. Any seat with the label reading ECE-R44/01 or 02 must be replaced with more recent models with the mention 03 or 04. Price does not affect the stability or use of the seats.
For further information please visit the TCS website: www.tcs.ch/main/fr/home/auto_moto/tests/kindersitze.html