Please check this page on a regular basis so that your own copy of the 2017/2018 edition of Know-it-all passport® is always up-to-date. The date at the end of each entry is the date that the correction was uploaded on the site. If you have anything to add or correct please fill out the form under What have we missed? from this website. Thanks for your continued support.

When updating Know-it-all passport®, the team called every address in the book. Sometimes after several unsuccessful tries to contact some listings, we have to make a decision to either delete the address, or leave them in. Please understand and let us know of any errors. Thanks a million!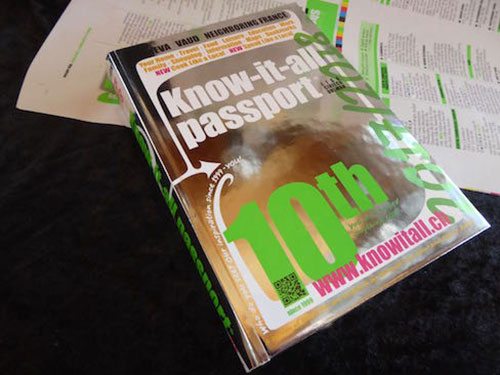 18) Physiodynamis
Page 556
Please change name of company to Nyon Massage Médical and website to www.nyonmassagemedical.ch. Thomas Payot has now become a qualified medical masseur and specializes in various types of Massage, Therapeutic Foot Reflexology, and Manual Lymphatic Drainage (MLD) for all ages. (23.01.2018)
17) Association Genevoise des Amis du Saleve - AGAS
Page 132
Please change email to: david.viry@dj-webb.ch. (20.10.2017)
16) Girl Scouts - Vevey area
Page 422
Please change contact details from Helen Shephard to Clare Joyner: 078 928 08 12
(02.10.2017)
15) Kindermusik
Pages 499, 603
Clare is no longer organizing Kindermusik classes. Please delete this entry. (02.10.2017)
14) Anhugar School
Page 439
The school has moved to a new location:
2, ch. de la Fontaine
1260 Nyon
022 367 17 11 main
078 953 84 50 director
(12.09.2017)
13) Musée d'éthnographie de Genève
Page 352
Please change: Open 11h-18h. Price: Fr. 9.-/adult, Fr. 6.-/reduced price. (21.06.2017)
12) Lake Relocation
Page 13
Please delete this entry. (02.06.2017)
11) Un Petit Mot
Pages 626, 709
Please change address to 8, rue du 31 décembre, 1207 Genève. No more stock, only personalized items, open by appointment. (01.06.2017)
10) Red Cross Museum
Page 351
Please note that 1st Saturdays offer free entry ONLY from November through March. (01.04.2017)
9) Lake Leman International School SA - LLIS
Page 447
Please change name of school to Knightsbridge Schools International (KSI Morges). KSI Morges is an international primary school teaching in both English and French. International Primary Curriculum. (21.02.2017)
8) Expat-Expo Geneva
Pages 4, 246
The 2017 date and location has changed to 5 November and will be held at the Starling Hotel and Conference Center at Palexpo. (31.01.2017)
7) Leman International Fair
Pages 240, 247
This fair has now stopped so you may delete the listings off these pages. (31.01.2017)
6) Little Friends Preschool
Page 447
This school is now closed. Please delete the listing. (31.01.2017)
5) Bricks4Kidz®
Pages 366, 376, 393
Please update address as they have moved up the road to 42E. (21.11.2016)
4) New recommendation:
David Lawson, Psychotherapist
Geneva Mederi Clinic
81, av. de Champel
1206 Genève
022 347 44 22
078 882 96 28
www.gm-clinic.ch
contact@davidlawson.ch
Psychotherapist, working with individuals, couples and families from all over the world (in English and French). Receives local patients at the Geneva Mederi Clinic, or world-wide patients via virtual sessions (Skype or other). Helps people to understand and fix the life's daily issues most of us face from time to time: specialized in all forms of addictions, mindfulness practices, anxiety, depression, sexual disorders, and borderline personality disorder. In addition to individual therapy, couples and marriage therapy is offered.
3) Nora Hechmati
Pages 555 and 583
Please remove these listings and she doesn't work in the area from this date. (23.10.2016)
2) Active Relocation, page 11 and HR Relocation, page 13
Geneva Relocation has merged Active Relocation and HR Relocation into one. Please contact Geneva Relocation on page 12 for assistance in relocating. (15.10.2016)
1) Christine Breede-Schechter
Pages 487 and 560
From 15.09.16, Le Centre Trampoline will be located at:
Rue Michel Simon 7
1205 Genève
The telephone number will reamin the same. (05.09.16)
Save
Save
Save
Save
Save
Save
Save
Save
Save
Save
Save