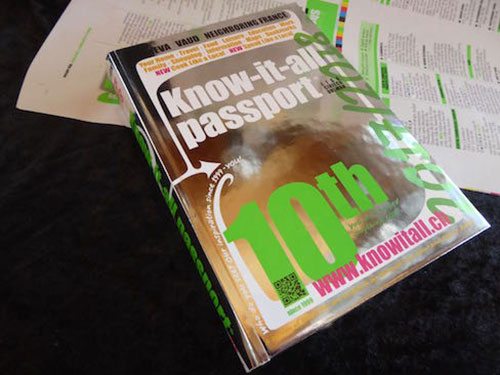 Know-it-all passport® is the ultimate English-language guide for the Geneva, Vaud and neighboring France areas. The current 2017/2018 (10th) edition of Know-it-all passport® has 780 pages in hardcover, more than 50 chapters, a full index, 2 bookmarks attached by ribbons, and maps of the area. Two new chapters, COOK LIKE A LOCAL and SPEAK LIKE A LOCAL, add an integration level to the book. Not only will newcomers benefit from these new chapters, but those living in the area for years will certainly learn something new! The distinctive shiny silver cover, now in hardback, will not go forgotten. This book must be on your wish list! Also makes a great gift to a new neighbor or friend. Ask your employer whether they have copies available or pick up a copy at this link.
First published in 1999, it has become THE reference book for anything you want to know from shopping, housing and education to birthday party venues, places to eat, night life, and chocolate! It includes pages of information on winter activities, where to go for public transport and much more. The chapter on OUTINGS AND TRIPS (54 pages) is a book within a book. You won't need anything else!
View sample pages from the 10th edition.
Save
Save