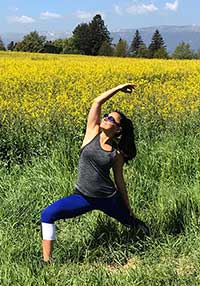 Ceylan Ayik is a certified Integrative Nutrition Healthy Living Coach and RYT 300hours Yoga Teacher, whose aim is to empower busy women on their journey to becoming happy, healthy role models for their children, family and friends. She is passionate about helping them to transform their minds, health and bodies through optimal nutrition and yoga.
She leads groups workshops on nutrition as well as one-on-one health and nutrition coaching packages. They include pantry detoxes, cooking lessons and clean food shopping trips.
Alongside her busy coaching practice and yoga teaching, she is a mother of two, wife, and writer for her fitness and gourmet blog, Fitgurme.
Save
Save
Save
Save
Save
Save
Save
Save
Save
Save
Save
Save
by Ceylan Ayik, www.ceylanayik.com/
We are almost approaching the end of September and most of us are very busy settling into the new school year and even busier work schedules.
September is a bit like new year to me! New decisions, resolutions, goals for a new season! Maybe that's a way to cope to with the end-of-summer-syndrome!
Actually, autumn is a great season to embrace changes, get stronger and lighter as nature does every year.
Here are some suggestions and events that will help you to re-energize and continue stronger on your busy days. We all deserve these breaks and self-investments to continue with fresher minds and bodies!
Hiking season!
We are so lucky to live in this beautiful region with endless hiking opportunities! We always use the Swiss Hikes website to choose, and use its app when we go. Also check out the My Switzerland website for more.
Living in Geneva, we love the hiking trails in St.Cergue, Vevey, Montreux and Neuchatel.

The best part is usually the picnic time with the amazing view of Lac Leman and the Alps! As a healthy eating fan, I always pack some fruits-nuts and raw veggies and can find a salad in bakeries (yes there are salads in bakeries now!) while my family usually prefers the delicious sandwiches!
Start trying new classes!
You might be one of those many who came back from holidays and long summer days with some extra "luggage" and want to get back into shape as soon as possible, especially before the new year craziness start!
This month most of the fitness-gym-yoga-pilates-dance studios have open house trial days. Make use of these days and start or re-start a practice that you really enjoy doing and make it an important part of your life!
If you do not feel motivated enough to start exercising again, then listen to what Mel Robbins says about motivation.
You can also read my blog post on "How to get back on the Wellness Wagon" to get some quick tips to help you on this journey.
by Ceylan Ayik, www.ceylanayik.com/
Living a happy and healthy life, against all odds: yes, this is the challenge for our generation and the next!
With such an abundance of food and beverages, industry tricks and "innovations", not to mention all that technology, which keeps us sedentary and bombarded with unnecessary stressful information…how can you keep up a healthy living lifestyle and peaceful mind, without interruption?
The story gets even more complicated if you are already overweight, in spite of trying lots of different methods, and ending up back to square one, having lost your motivation and belief in all these "healthy living stories"!
I would like to take up this challenge and show you, step by step, that it is possible to have better eating and living habits, simply by changing some bad ones that no longer serve you – if you promise to not regard this as another type of "diet"
From this corner of the knowitall.ch website, my goal will be to keep your motivation and inspiration alive, no matter what goes on in your life. I will give you tips for eating out, shopping, cooking, different exercise methods, relaxation and self-care, drawing on the resources that you have available to you in and around Geneva.