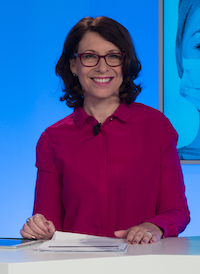 Claire Doole is a former BBC correspondent and international spokeswoman who is passionate about helping people communicate with confidence. Since 2006, she has successfully trained hundreds of professionals in the art of presenting and public speaking, talking to the media, managing communications in a crisis, and writing for the web. In addition, she has coached C-level executives and public figures to give powerful TEDx and TED style talks in Europe and the Middle East. A Swiss and UK national, Claire trains and coaches in French and English.
Claire is also a highly experienced moderator having facilitated panel discussions with government ministers, NGO activists, humanitarians and human rights specialists at major events.
Save
Save
Save
Save
As soon as the sound failed in the opening video, I knew the conference would be rock and roll. Fortunately, I had insisted on an earpiece. I told the hastily assigned director to put the video volume up and he subsequently told me in my earpiece when the last-minute replacement for the opening speaker had entered the room. In fact, he arrived too late to start the conference. It was just as well that I had minutes beforehand lined up the second speaker to open it.
And that is how the day went, constantly adapting the programme when speakers didn't turn up, physically changing the number of chairs on the stage before each session and repeatedly checking the number of available microphones and whether they worked.
In theory, acting as the Master of Ceremonies, (MC) is less work than moderating panel discussions, which takes a lot of preparation to do well. An MC's job is to make sure the event goes smoothly, link the sessions and speakers and engage the audience.
But if there has been no technical rehearsal the day before, and the team is a team of experts in their field but not in organising events - a situation I often face - the MC can find themselves in charge of a salvage operation - papering over the editorial and logistical cracks on the day as best they can.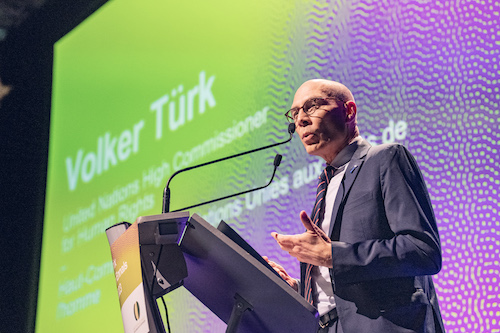 Most of the people I coach do not write their speeches. They rely on a speechwriter who either fails to capture their voice or delivers a text that has been written to be read, not spoken.
This makes it incredibly difficult to deliver in a natural and convincing way.
Most senior professionals (or leaders) prefer to speak from briefing notes with key points, as this allows them to convey these ideas in their own words.
But sometimes, they have to deliver a keynote speech in a formal setting and cannot go off script.
So how to do you get your points across but not sound scripted?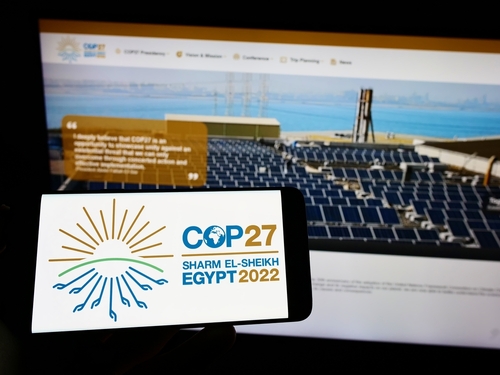 By Claire Doole, www.doolecommunications.com
The head of an organization that last year ran more than 100 panel discussions asked me that question recently. By the way, if you think 100 is a lot, the organization had topped 150 panel discussions in 2020/21!
We all understand the quest for visibility, but sometimes less is more. The organization in question understood this when at COP 27 in Sharm El Sheikh last November it had to cancel a panel discussion – one of 15 it was organizing – due to a lack of audience.
Lack of audience
I was told by friends who attended COP 27 that there was marquee after marquee, side event after side event, but many of them were not full. One private company held a panel discussion at which only three people turned up. This, I would argue, was an event that should have been cancelled, as it is not good for the organizer's reputation, brings little benefit to the speakers, and is an uncomfortable experience for the audience.
Ironically, this is more likely to happen at big events like COP as there is more competition for attendees. This is having a knock-on impact on panelists in that they are being asked to speak at too many events, and there is not always enough of them to go around. Another international organization fielded requests from 80 side-event organizers for speakers – many of which they could not accept as they didn't have that number of speakers available.
By Claire Doole, www.doolecommunications.com
One of the most common refrains I hear when coaching senior leaders in public speaking is they have to rewrite most of the speeches drafted for them.
Much of the time the person struggles to deliver the speech because it has not been written for them. In the words of one agency head, "it doesn't capture my voice."
I have written many speeches. I see my job as writing the speech that the speaker themselves would write if only they had the time. I have to stand in the shoes of that person and see the world as they see it.
Below are some tips based on how I capture my speaker's voice.
Research
Listen to recordings of the speaker at events and conferences. If you are a staff member observe the speaker at town hall meetings or during internal webinars.
Get to know your speaker
You must have access to the speaker so that they are involved in the drafting process. During a phone call or in-person meeting, together, you will first have to define the purpose, audience and argument of the speech. But don't forget to drill down on the essence of that person – what drives them? What are their beliefs? What type of person are they?
By Claire Doole, www.doolecommunications.com
What is the first thing you think about when asked to give a presentation or speech?
That is a question I often ask in my presenting and speechwriting workshops.
The answers are often very candid but very wrong. They range from the slides I can recycle from previous presentations to structure and messaging.
You can't give an impactful presentation or speech until you have worked out who you are talking to. Too many speaking engagements are wasted opportunities because the speaker has not tailored his or her content to the audience. If you give some off-the-shelf presentation, audiences know that you are speaking at them and not to them, and will, often, zone out.
You need to ask yourself three questions:
What does my audience know about the topic of my speech?
What is their attitude to the topic?
How big is the audience, and what is the setting?