By Claire Doole, Doole Communications
Have you seen the play, "Six Characters in search of an Author" by the Italian dramatist, Luigi Pirandello? Actors rehearsing for a play are interrupted by six unfinished characters in search of an author to finalise their story. It was first performed in 1921 and is part of the absurdist genre – breaking down the barriers between fantasy and reality.
Unfortunately, a century later, it is the absurd reality that many moderators can find themselves in when confronted with a cast of speakers selected by the organizers of an event. We struggle to work out why they have been chosen, and what they bring to the subject under discussion. We are then left to build connections between the speakers to create a narrative flow that makes sense to the audience.
Believe me, this can take hours of head scratching and sometimes the connections are just not there, particularly if an organiser has selected someone for non-editorial reasons such as an important donor, someone they want to do busines or engage with in the future or because we must have a representative from all five corners of the globe.
Start with the what and not the who
Organisers often tell me they want a BBC-style discussion. If that is the case, they need to follow the principles of BBC news and current affairs programmes. You start with identifying the news of the moment – for event organizers – this translates as what is top of mind and relevant for the audience.
A lot of events today are focusing on building back better after the pandemic, asking if the world can be more sustainable. The BBC would take an opposing view structure bringing someone from the government to explain how they set new environmental targets to achieve net-zero emissions, and then an environmental activist who says the targets are inadequate. The BBC might also put into the mix an academic who can give context.
Unfortunately, organisers rarely want to have opposing views in a discussion – although this is often what is most interesting to an audience. They often prefer to have different perspectives on a subject. This is also possible but it takes more careful thought.
You need to come up with a title for the panel which ideally includes a question. For example, tea producers under threat – how to ensure production is environmentally, economically and socially sustainable? You could then invite a speaker from India and from Kenya to talk about the threats and possible solutions, before bringing in a speaker from a tea consuming nation, such as the UK and a speaker from the FAO to discuss possible actions at a local, regional and international level.
Be selective in choosing your speakers
If you want a real exchange of views, you need to select speakers who can not only speak about their area but pick up on points raised by other speakers or the moderator, and don't have more than four speakers. All too often, panel discussions are in name only as they become interviews with each speaker and there is little exchange between the speakers.
One more point, do not accept the first speaker you contact. At the BBC programme producers hit the phones finding the right people for the subject and dismissing anyone who does not have strong views, new insights or who is not a confident speaker.
And they never accept people who all say the same thing. Imagine if Pirandello's six characters in search of an author were all the same – that would have been numbing for the audience who would no doubt have voted with their feet and the play would not have endured as a hit show over the past century.
Author's bio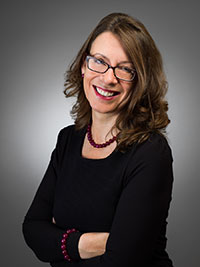 Claire Doole is a former BBC correspondent and international spokeswoman who is passionate about helping people communicate with confidence. Since 2006, she has successfully trained hundreds of professionals in the art of presenting and public speaking, talking to the media, managing communications in a crisis, and writing for the web. In addition, she has coached C-level executives and public figures to give powerful TEDx and TED style talks in Europe and the Middle East. A Swiss and UK national, Claire trains and coaches in French and English.
Claire is also a highly experienced moderator having facilitated panel discussions with government ministers, NGO activists, humanitarians and human rights specialists at major events.