By Claire Doole, Claire Doole Communications
There can't be many subjects that provoke more heated debate than the Israeli/Palestinian conflict. So when the founder of the Geneva Human Rights Film Festival (http://www.fifdh.org/site/en/home) asked me to moderate a debate on the subject last week, I knew I had my work cut out.
As a former BBC journalist, I follow current affairs but I am not a subject expert. Yet at the Festival I would have a room full of subject experts. There are large Jewish and Arab communities in Geneva and many organisations that work towards ending the conflict.
Preparation was crucial if I was not to make a diplomatic faux pas and do justice to the speakers: Israeli professor and peace activist, Daniel Bar-Tal, founder of Stop Israel Save the Occupation (http://www.siso.org.il) and Palestinian peace activist, Ali Abu Awwad, founder of the Tarir/Change Movement and Roots initiative (http://www.friendsofroots.net/the-people.html).

Daniel Bar-Tal, Claire Doole and Ali Abu Awwad at the Geneva Human Rights Film Festival.
So how do you prepare to moderate a panel on a hot topic? Below are some essential steps based on my experience last Sunday of moderating the discussion on Israelis and Palestinians against the Occupation.
Research the subject. I read up on key moments in the conflict, checked when the last peace talks happened and the latest developments on what the new US administration was actually saying on the two-state solution, settlements and moving the US embassy from Tel Aviv to Jerusalem.


Briefing with the panelists. It is key to build rapport with the panelists find out what they had done, their motivations and where they agree and disagree. I spent an hour with Daniel Bar-Tal on Skype and with Ali Abu Awwad in person.


Structure, structure, structure. When you are faced with experts on a hot topic, the moderator has to have a clear idea of how to guide the discussion as otherwise it can easily get out of hand. Work out subject areas to cover during the panel. For example, objectives, motivations, internal challenges, external challenges, future vision, and reaction to recent events.


Coherent flow. If there is a film or speaker before the discussion, it is important to refer back to this to ensure there is coherence but not duplicate the points. This means watching the film and knowing what the speaker will say so that you can move the discussion forward.


Pre-panel meeting. Meet the organisers, technicians and panelists 1-hour before to check the choreography of the event – layout on stage, microphones, and timings. I also gave them an idea of my line of questioning. This is not a BBC interview but an opportunity for the panelists to get their points of view across.


Check intro and bios. On a hot topic, every word counts. I made sure I asked the speakers to fact check my introduction and to agree to their bios.


Dance in the moment. You have to be prepared to follow up on what people say, get clarity on certain points and get as many specifics as possible.


It is about the panelists not the moderator. The audience, particularly if subject experts, has come to hear the panelists speak. It is not a BBC interview when the journalist often interrupts to press a point or get the news. However, the moderator does need to elicit interesting answers – not least because the organisers need quotes and sound-bites for their website and social media platforms. It is a balancing act.


Questions not comments from the public. This applies to all panels, but particularly when the audience is full of subject experts. Even though I made it clear that I wanted questions not comments, I repeatedly had to remind people, as they started to make statements, to ask a question. The moderator has to be firm for the sake of the rest of the audience and the panelists.


Give the panelists the last word. When faced with a potentially heated Q and A session, it is important to keep control and leave the last word to the panelists. Give them 30 seconds to wrap up with their main message or, in the case of Sunday's discussion, their call to action.
If you would like to find out what motivated Daniel Bar-Tal and Ali Abu Awwad to work for peace, watch this short clip.
And have a look at this clip to hear what they say about the impact of the Trump Presidency on their work. have a look at this clip.
If you would like to find out how to be the perfect panelist or how to take the stress out of moderating do read these blogs for more information.
Author's bio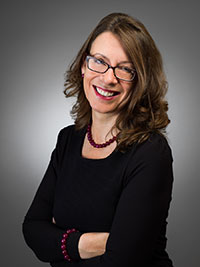 Claire is a former BBC correspondent and international spokeswoman who is passionate about helping people communicate with confidence. Since 2006, she has successfully trained hundreds of professionals in the art of presenting and public speaking, talking to the media, managing communications in a crisis, and writing for the web. In addition, she has coached C-level executives and public figures to give powerful TEDx and TED style talks in Europe and the Middle East. A Swiss and UK national, Claire trains and coaches in French and English.
Claire is also a highly experienced moderator having facilitated panel discussions with government ministers, NGO activists, humanitarians and human rights specialists at major events.