The girls of Malimba Community School after receiving their Reusable Menstruation Kits, and an educational talk on reproduction/puberty, January 2023.
When we learned about the NGO 16 year-old Ruben Chung founded we wanted to find out more. Ruben, a year 12 student at the International School of Geneva, told us, "I founded an NGO: Serve4Good: focusing on keeping girls in school in developing countries as absenteeism is a big problem due to their roles to fetch water. Because of their monthly menstruation cycle, girls end up missing about 25-30% of the schooling that their male classmates get. By the time they are in their teens, that is years of education they don't get. Many end up just dropping out."
Ruben admits that It all started out when he organized a tennis match for his friends during COVID, that the idea was sparked.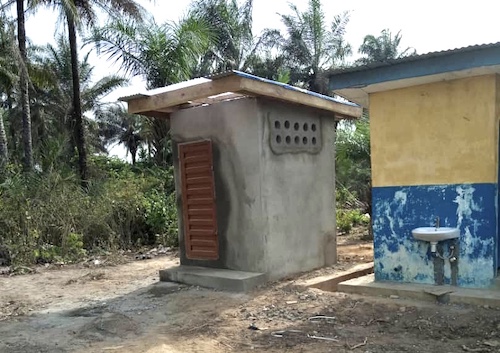 The 'She-Shelter' girls-only cabin under construction next to the latrines, March 2023. We also had the handwash sink installed on the side of the latrine building as the children never had anywhere to wash their hands before. We are also providing them with soap and lessons on how and why to wash their hands.

Ruben won the Swiss Water Partnership Youth Award in 2022 for his project proposal She-Shelter and also applied for a few Geneva-based grants to raise enough money to make the first pilot project, at a very remote school in Malimba Sierra Leone.
"It includes a clean water ecosystem and menstrual hygiene management measures: reusable washable period underwear and what I call, "She Shelters", a girls only cabin with running water for the girls to have a place to change and wash up at school. Our pilot project is nearly finished and we are now looking to build a similar pilot project in Papua New Guinea, where my father is actually from.
There is a wonderful system that Geneva communes have which offer grants for development projects in underserved countries. This is something many do not know about.
Congratulations to Ruben for taking on such a great initiative. Check out the projects they have done so far on the website www.serve4good.ch. You can contact Ruben via the website to help move this NGO forward.
Ruben Chung in Geneva