KSI Morges, the small international primary school formerly known as Lake Leman International School and which was recently taken over by Knightsbridge Schools International, is offering an Early Bird Discount for any new students, who enrol at the school before the end of April 2017!
Valid for 2017/2018 admissions and not applicable with any other offer*, the discount entitles students to 50% off Registration Fees if they enrol this month! With Registration Fees currently standing at Fr. 2,500.-, this is a great incentive for any parent of a child aged between 3 and 12, who is looking for an alternative approach to education that will provide them with the individual attention that their child needs.
Every day is an Open Day at KSI Morges
Keen to raise awareness about the new ethos of the school, the School Director, Denise Coates, is now inviting interested parents to drop in on Wednesday afternoons, without appointment, between 14h and 15h30. However, appointments can be set up at any time throughout the week, if Wednesdays are not convenient. During the course of the visit, parents will get the chance to talk to the Director of the school, the teachers and students.
Children visiting with their parents will also get a full, interactive experience of what it is like to be a student at KSI Morges, with plenty of opportunity to chat with other children and school staff.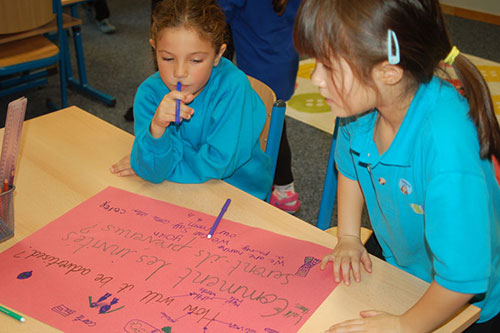 Bilingual teaching
Part of the prestigious Cambridge School Network, KSI Morges provides teaching for children aged 3 to 12 in both English and French. English is the principal language of instruction and French is taught at different levels up to mother tongue standard, according to the needs of the individual child.
Denise Coates explained to knowitall.ch, "Our individual approach of teaching French at different levels allows for a thorough understanding of the local language. The co-education of international and local students in the same school has a very positive impact on the integration of international students into the local community and fosters friendships between Swiss families and families from abroad."
She added, "Our small class sizes mean high engagement at all times, with classrooms monitored daily to ensure the highest quality standards. Class sizes range from around 5 to 17 children, depending on the age of the child and whether or not classes have been merged. With less than 20 children per class, students receive plenty of individual attention from their teachers, so that any specific educational needs can be readily met."
International Primary Curriculum
KSI-Morges provides modern teaching through the International Primary Curriculum (IPC), one of the world's fastest growing and most respected programmes for ages 3-12. The IPC is an innovative approach to primary (ages 5-12) and kindergarten years (ages 3-5) education in an international context. It is based on a set of explicitly defined learning goals for every subject of the curriculum, for personal development and, uniquely, for the development of 'international mindedness'. You can find out more about the IPC here.
Since KSI Morges is a multicultural family that welcomes new students from around the world, the school has an excellent English as an Additional Language (EAL) support service in place for those whose first language is not English. Specialised language support services are provided, as required.
After-school supervision and activities
KSI Morges offers supervision and in-house activities until 17h00 free of charge, meaning parents can have a full working day safe in the knowledge that their children are well taken care of.
At the start of each term, parents are presented with a range of after-school extra curricular activities and are requested to inform the school of their child's choices. Teachers offer a variety of activities, for example the Book Club, Craft Club, Drama in French, Drama in English, and Sports Club. External providers also offer specialist tuition and coaching in a range of activities, including Ballet, individual Piano and Violin lessons, and Soccer training.
Transport
A school minibus service, which serves locations between Montreux, Lausanne and Geneva, offers parents the most convenient, cost-effective and safe way to ensure their child(ren) receive a door-to-door transport service to and from the school. All buses are fully fitted with the latest safety equipment, are environmentally friendly and driven by trained personnel, ensuring that children receive a secure and punctual service.
About Knighstbridge Schools International
KSI Morges forms part of the global Knightsbridge Schools group, which currently operate schools in London, Portugal, Montenegro, Colombia, Panama and Switzerland.
Knightsbridge Schools International was established in 2008 to develop and operate a network of international schools in attractive locations around the world. These schools are complemented by other educational services including KSI Learning & Psychology Centres, KSI KidS and KSI Camps.
The KSI vision is to take the best of Knightsbridge School's distinctive ethos and compelling approach to education and enhance it with top quality international academics and operations to provide a unique learning experience for learners in the pre-primary to secondary schools market, as well as the camps and learning-centre markets.
The KSI curriculum, based on the International Baccalaureate, is unique and provides for a holistic approach to education, combining individual academic achievement with personal, physical, social and emotional growth in an environment rich in hope and compassion.
Knightsbridge Schools International Switzerland SA / KSI Morges
Av. d la Gottaz 34-36
1110 Morges
This email address is being protected from spambots. You need JavaScript enabled to view it.
021 804 16 00
www.ksi-morges.com
* Terms and conditions apply.