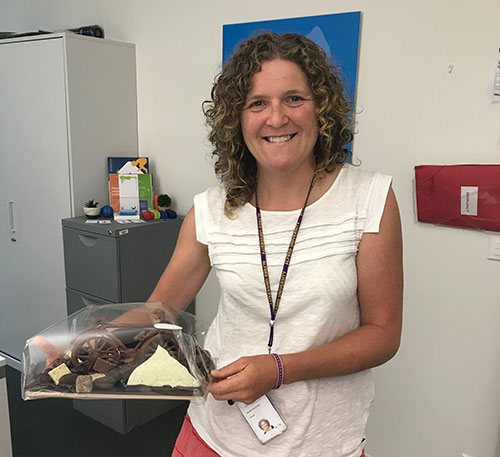 It was back to school recently for GEMS World Academy Switzerland (GWAS), an international school for children ages 3 to 18, located in Etoy between Geneva and Lausanne. The growing school is welcoming many new families and teachers, as well as returning students and staff.
One returning teacher in particular is generating a lot of excitement at the school; Melissa Pritchard, a grade 4 Primary teacher at GEMS, is just back from competing in the fifth edition of the Transcontinental Bike Race (TCR), a challenging self-supported bike race across almost 4,000km of Europe. Melissa was the first woman to arrive at the finish this year, completing the race in 13 days, one hour and 29 minutes.
TCR is one of the toughest annual ultra-endurance and ultra-distance cycling races.
#TCRNoS began on Friday 28th of July in Geraardsbergen, Belgium and finished in Meteora Monasteries, Greece. Although each participant was free to plan their own route, they had to pass by the following four checkpoints:
CPl - Schloss Lichtenstein, Germany
CP2 - Monte Grappa, Italy
CP3 - High Tatras Mountains, Slovakia
CP4 - Transfagarasan Highway, Romania
Although 236 single riders and another 28 paired riders signed up for the challenge, by August 9th, with the effects of heatwave Lucifer, the number of active participants was down to 160 racers. The first place winner, James Hayden, finished in 8 days, 23 hours and 14 minutes.
Melissa Pritchard:
Originally from Oregon in The United States, Melissa attended an IB Spanish bilingual programme growing up. She received her Bachelor's Degree from Alfred University in Fine Arts and initially worked in the design industry. Her passion for art, Spanish, and traveling led her overseas to Barcelona where she lived for eleven years. While in Barcelona, she pursued a second university degree in contemporary jewelry design and worked at an international school and also earned her Master's Degree in Bilingual Education from Oregon State University.
After teaching for seven years, Melissa left the classroom to pursue a dream to cycle around the world, pedaling 34,000 kilometers from Barcelona, Spain to Oregon, USA while visiting classrooms and students around the globe. Melissa is a natural inquirer and loves working with children because of their natural curiosity, passion to learn and abundance of energy. Melissa finds any excuse to be outdoors, whether it be riding her bike, running, hiking, or traveling. If stuck indoors, her creative juices flow into cooking and baking, designing and making jewelry or doing ceramics.
GEMS World Academy Switzerland
La Tuilière 18
1163 Etoy
Switzerland
021 964 18 18
http://www.gemsworldacademy-switzerland.com/
Save
Save
Save