Pamela Fischer and her team performing a synchronised swimming show

On 28 May 2015, the GEMS World Academy-Etoy international school inaugurated its new sports facilities with the support of both Olympic and young athletes. During an evening dedicated to "Sport in Action", which included demonstrations of swimming, basketball, dancing, netball, badminton, and fitness, athletes and students were able to show the entire range of disciplines available on site.

GEMS World Academy's special display in honour of sport was an impressive occasion with a red carpet welcome, live music and the presence of famous sport personalities. The event was marked in particular by the vibrant speech of Jean-Christophe Rolland, president of the International Rowing Federation (FISA) and Olympic medallist. He shared his experiences with the audience, relating how he won the gold in Sydney, and recalling the importance of determination in pursuing his athletic goals and - more generally - in everyday life.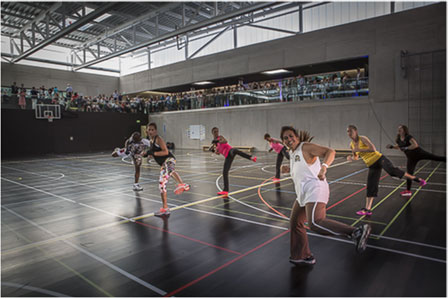 GEMS mothers performing Cardio Kick-Boxing with their trainer Martial Ayissi
For the first time, the center facilities were showcased at full capacity, giving the site a festival atmosphere. Many sporting events were showcased including a swimming demonstration led by Adrien Perez - former Olympian and holder of the Swiss record of the 50m butterfly short course (25m) - and the Rolle Swimming team; a synchronised swimming show by Pamela Fischer - worldwide swimmer and former Olympian - and her team; a basketball demonstration with Milos Bozovic - BBC Lausanne (League B) player - and the DEL Team.

The new center was designed by Architects Architecture and Design Lausanne CCHE SA, and features a 25-meter long swimming pool, a large multi-sport court, a climbing wall, a fitness room and a dance studio. These facilities will not only benefit students at the school, but can also be rented by local organisations and societies. "We are delighted to offer such state-of-the-art facilities to our students and the entire region," said Audrey Peverelli, Director and CEO of the school.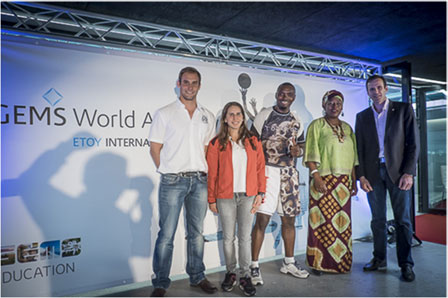 Adrien Perez (Rolle natation), Pamela Fischer (synchronised swimming), Martial Ayissi (karate), Estelle Hughes (jazz group Pososhok and GEMS teacher) and Jean-Christophe Rolland (guest of honour)

About GEMS World Academy-Etoy, International School
GEMS World Academy-Etoy International School offers academic programs in English, with French as a second language for students aged 2 to 18. German or Spanish are offered as a 3rd language from grade 6. The School offers the International Baccalaureate® (IB) Diploma, which is recognised worldwide.
GEMS World Academy-Etoy International School offers merit-based scholarships in all disciplines, including community service. The school offers English support for non-native English speaking students as part of regular classes and a mother tongue language program within the World Language Learning Centre, also open to the public. GEMS World Academy-Etoy is part of the worldwide group GEMS Education, which owns 70 GEMS schools and over 130 affiliated schools worldwide.
GEMS World Academy-Etoy
La Tuilière 18
1163 Etoy
021 964 18 18
This email address is being protected from spambots. You need JavaScript enabled to view it.
www.gemsworldacademy-etoy.com