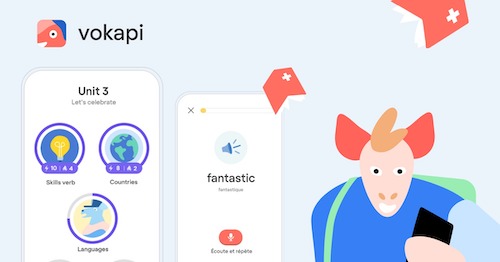 Introducing vokapi – created specifically for the PER curriculum in the Swiss Romandie.
With the surge in digitalization, the mobile application scene is buzzing with a huge number of tools that claim to help users develop new skills and learn new languages. What seemed to be lacking was learning apps created for young students that were based on the curriculum and textbooks used in class. That was until vokapi came around.
vokapi is an e-learning mobile app available on Android in the Google Play Store (and very soon, iOS) that helps students in grades 7 through 11 in the Swiss Romandie ace their English language tests. The idea started when storm digital experiences co-founder and in-house developer, Mathieu Latin, created a very early version to help his dyslexic son practice English vocabulary in a way that worked for him. The storm team saw it as a real opportunity and ran with the idea, creating vokapi and tailoring it to the "programme d'étude romand" (PER). The aim is to help students practice exactly the words they encounter on their tests while they learn at their own pace.
vokapi is the only English learning app tailored for the curriculum in the Swiss Romandie. It personalizes the learning experience of each user by creating vocabulary lists based on individual performance, which allows students to focus on their weaknesses. Using a range of exercises, reading, writing, listening and speaking are tested for each word and vocab is organized by levels and units.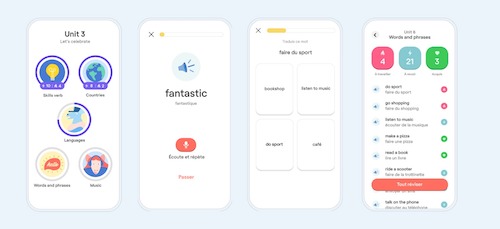 Benefits for educators and parents
Educators whose students use vokapi at home or in class can be sure that students are focusing on the words they'll encounter on tests. It also allows students to learn at their own pace, and teachers can give extra attention to those who are struggling on certain units or words. vokapi can be used together with more conventional study tools anywhere a student has access to a mobile device or tablet.
Parents enjoy vokapi because they can follow their child's progress and can turn it into an activity they enjoy together. Additionally, they won't hear any excuses about their child forgetting their textbook or workbook at home.
Feedback welcome!
The storm team is currently looking for teachers who would like to test the app and share their feedback about how students benefit and how the app is incorporated into teaching methods. Input and feedback from students are also welcome! vokapi experiences can be sent directly to This email address is being protected from spambots. You need JavaScript enabled to view it.
About storm digital experiences
storm digital experiences is a digital product development agency based in Lausanne. We use teamwork, creativity, brainstorming and in-house copywriting, design and dev skills to build tailored solutions for the education industry. These solutions have included online application journeys, intranets, UX-optimized landing pages and websites.
Contact information
Samantha Oberholzer, Co-founder & Head of Marketing/Communications
This email address is being protected from spambots. You need JavaScript enabled to view it.