Earlier this month, an inauguration ceremony took place at the International School of Lausanne (ISL) to mark the official opening of a new, widely expanded campus in Le Mont-sur-Lausanne. ISL is an international IB English language not-for-profit school, currently educating 820 students of 66 nationalities.
The new campus is the result of a Fr. 46 million investment by the school in a 2-year project, which has seen the floor area double from 11,300 to 23,300 metres square, and the total area of the campus increase to 42,300 metres square.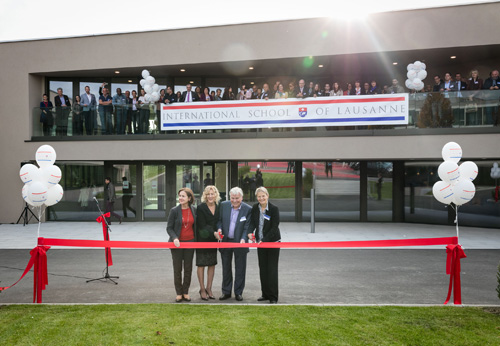 The special event drew more than 100 dignitaries, corporate partners, media and architects from around the commune of Vaud. Lyn Cheetham, Director and Rosalie Hoffmann, Board Chair, together with Anne-Catherine Lyon, the State Councilor, Head of the Education Department, Youth and Culture of the Canton of Vaud, and Jean-Pierre Sueur, Syndic of Le Mont-sur-Lausanne, cut the red ribbon. ISL students sang and played the piano during the ceremony.
The new facilities, spread over a North and South campus, accentuate ISL's focus on rigorous academics, a holistic approach to education beyond academics, and a strong sense of community – all in a new custom-designed space.
The South Campus includes:
Coffee bar and café, providing an ideal spot for students, parents and staff to congregate.
A multi-purpose tiered auditorium with 400 seats for hosting drama and musical performances, plays, debates and other educational and community forums.
New technology, science and math labs, which will facilitate the teaching of Computer Science, the new IB course added this year, and offer students more choice of science classes.
Art rooms, drama studios, sound-proofed music and practice rooms, band and orchestra rehearsal areas, and a multimedia broadcasting and recording studio using ethernet.
Lounges and study areas for IB students.
A school spirit shop where students can buy ISL branded hoodies, t-shirts, jackets, caps and sports bags.
A community room for ISL parents available for meetings and special events.
The North Campus includes:
Early Childhood Centre (ECC). This custom-built facility comes equipped with spacious airy classrooms designed with light Swedish wood to maximize the feeling of calmness, while minimizing noise. Each of the classrooms opens up to outdoor learning spaces. A kitchen designed for children is used weekly during baking classes, as is the gym and multi-purpose spaces. The multi-level playground with a sandbox, playhouse, a slide built into a hill, merry go round, and other equipment welcome children multiple times throughout the day.
Primary and Secondary libraries.
Specialist exploratory rooms and labs, purposely designed in the Primary and Secondary areas for Art and Science, exhibitions and explorations.
A triple-sized Olympic gym, fitness and weights facilities.
An expansive playground and outdoor sports facilities. A large outdoor playground with swings, climbing structure, small houses and huts, table tennis and foosball, and a basketball court, Astroturf all-weather football pitch and tennis courts keep students interested and active during their recesses and provide the setting for some of more than 100 After-School activities on offer at ISL, many of which are sports.
Collaborative learning areas and outside garden.
New cafeteria featuring healthy Fourchette Vert meals.
"The design pays particular attention to innovation and space, the pedestrian flow and student safety," said Hannes Ehrensperger, Associate Architect, CCHE Architecture et Design SA, the architects for the expansion." This includes an adjoining esplanade between the north and south campuses campus and a spiral staircase that is suspended, rather than "sitting" on the foundation of the South Campus. The school will also be heated with wood chips, an environmentally friendly option.
International School of Lausanne
Chemin de la Grangette 2
1052 Le Mont-sur-Lausanne
Switzerland
021 560 02 02
This email address is being protected from spambots. You need JavaScript enabled to view it.
www.isl.ch