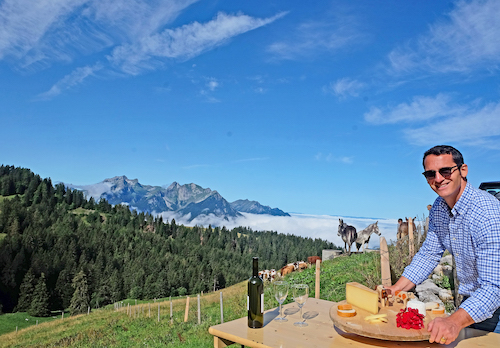 A few years ago we wrote an article about Chantal & Max at this link. As they have now evolved to have an amazing repertoire of bespoke tours, local contacts, hidden gems, and off-the-beaten-track itineraries on their list, we thought it might be a good idea to catch up with them again. With staycations high on the list this year, why not see the other side of Switzerland?
Why did you start? What has been the inspiration?
Well, ever since the day we met, 10 years ago, at the École Hôtelière de Lausanne, we've always loved travelling around Switzerland. On the weekends, while our friends would be roaming off to other countries, we would just take the car, go for a drive, and see where we'd end up. Our aim was always to find the small, charming boutique hotels with great service in the lesser-known places. That's how we've always loved to travel.
We were both working in the luxury hospitality industry in the Lake Geneva region, before we got the opportunity to move to London to pursue our careers in the same sector. Even though we loved the UK, we started to miss our homeland after about two years and decided to come back.
Around the same time, we came to realize that the "true" Switzerland was rarely put forward to incoming travelers. When we looked at the tours and "packages" that were available, it was almost always to do the same things in the same destinations… many of which have unfortunately lost their authenticity throughout the years due to a little too much tourism.
So we decided to start our own venture, with the aim of showing curious travelers the Switzerland we know and love, the one we're so proud of, full of incredible experiences, amazing properties and heart-warming encounters… all whilst keeping with the top-notch service that is very much engraved in our hearts.
And so, we travelled the country from east to west, north to south, to personally test every property, try every hike, knock on local artisans' doors, taste the food, meet our fantastic guides and really inspire ourselves from each regions' distinct character and particularities.
Today, three years after our "launch", we're proud to continuously inspire our amazing travelers from around the world with a side of Switzerland very few get to see. For us, luxury was always less about the marble floors, and more about giving our clients access to the things that the typical traveler does not have access to. And with a very simple philosophy in mind… we are not just a company and you are not just a number. We are people taking care of other people's dreams.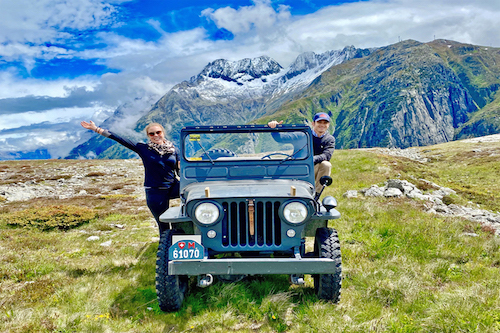 How has the company/business evolved and why?
The last time we spoke, we were really concentrated on the Lake Geneva region, as opposed to the whole of Switzerland. This initial idea was much more targeted for the local market looking for things to do in the region. Since then, we've expanded to cover the whole of Switzerland as we saw that there was really a demand from curious travelers to journey through Switzerland away from the tourist map.
Again based on demand, we also expanded our services to offer bespoke private day tours and multi day tours in the Lake Geneva region hosted by Max. He'll have you seamlessly uncover the true spirit of Switzerland: experience our traditions, taste our favorite specialties, visit our iconic sights and get inspired by the most magical landscapes, without skipping the iconic landmarks. You can find more information here.
What is the biggest obstacle you have had to overcome?
The biggest obstacle was probably this year! By the end of February, we were due to be almost fully booked for the summer. Because of the pandemic, all of our clients (most of whom come from the US) had to unfortunately reschedule their trips to 2021.
We did receive a few requests from domestic travelers looking to "rediscover" their own country which has been great, and we also decided to make the most of this year by travelling all around the country to find new hotels and experiences, meet our partners and hunt for new hidden gems that our clients will love when we'll be free to roam the world again.
Where do you see this company going? What are your plans for the future?
For now, we are really concentrating on consistently improving our service and expanding our list of tours and experiences around the country. The pandemic has certainly changed the travel world and what people look for, which is why we are creating new "glamping" experiences hosted by Max around the country. Along that same line of thought, we're also developing our list of chalets and rental properties for those who don't want to stay at hotels for the time being.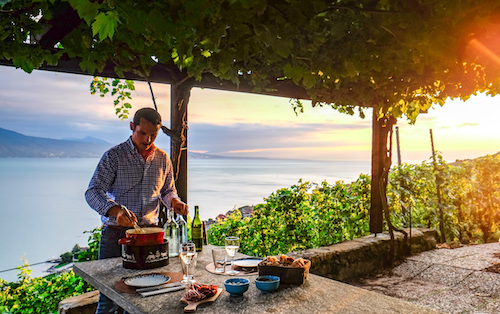 What is your favorite product you offer and why?
Probably the experiences we uniquely craft to our clients… think a private fondue amidst the vineyards in the Lavaux, overlooking Lake Geneva and the French Alps. Or going to see a local cheese-maker in his "alpage" at sunrise to see how they make cheese using the most traditional methods, and enjoying a farm-sourced breakfast afterwards. Or perhaps just a day tour through the "heidiland" to meet local artisans and enjoy a back-stage glimpse at Switzerland's most beautiful traditions. And if you're looking for an all-night experience away from the tourist map, why not let Max host you for a glamping experience under the stars?

What some of your clients are saying
Let me start by saying - AMAZING! The level of service we received with Chantal & Max was unprecedented! The service they provide YOU CANNOT DO YOURSELF - no matter how much research, planning or know how. They have not only the experience, the personal connections, but more importantly a level of service and ability to think outside of the box that transform your regular holiday to something magical. They hit the mark on every single level, and we will absolutely use their services for any and all future trips back to Switzerland! – Tim & Jennifer

Chantal and Max showed us Switzerland in a way that no brochure, picture, or ordinary tour could ever fully capture. From sweeping vistas to personal experiences with locals, they unveiled the true beauty of Switzerland - one perfectly tailored adventure at a time. – Natalie & David

This is the best agency I have ever used for planning travel experiences and adventures. Chantal was kind, organized and responsive when planning our trip in Switzerland. Max was our host and guide and he gave us an unforgettable tour. It's probably not an exaggeration to say that it was the most fun we've had on any European vacation in over a decade... An exceptional experience! We will definitely be planning our next trips with Chantal & Max – Dustin
CHANTAL & MAX
Luxury Experiential Travel in Switzerland
https://chantaletmax.com
https://chantaletmax.com/one-day-with-max