A new business has just been launched in the Lake Geneva region offering "back-to-the-roots" adventures and "alternative" experiences for both holidaymakers and local residents, which extend way beyond the traditional routes taken by red tour buses!
Called Chantal & Max, the new "experience agency" offers tailored activities around Lake Geneva, which are hosted by hand-picked, qualified locals, and have been created for special occasions, weekend outings or team-building events that allow you to escape the ordinary.
Describing their new business to knowitall.ch, the founders, Chantal Wäger and Max Desroche, told knowitall.ch, "We take the time that our clients don't have to find activities that are off the beaten path and that share our three values: social interaction, local interest and experience. In short, our motto is: Fill your life with experiences, not things. Have stories to share, not stuff to show!"
What kind of activities?
From the most basic to the most original, from gourmet to active, from being on the ground to flying up in the air, all of the experiences offered by Chantal & Max have been tested to ensure that clients have a guaranteed souvenir to take home: pictures, stories and unforgettable memories. The cherry on top? You'll be accompanied by passionate and engaging locals who are looking forward to welcoming you.
Chantal explained, "We aim to do much more than just suggesting activities – once we get to know you and what you're looking for, we'll select the appropriate hosts from our portfolio of over 50 providers and have them work together to provide you with a never-before-seen itinerary that's exclusive to you, and you only... there are no pre-packaged excursions here!"
Who are Chantal & Max?
Chantal and Max are a recently-engaged couple, native from the region, and who love to travel around the world. Max is as a creative perfectionist, who as an eye for operations and has fantastic charisma. Chantal is a multilingual travel fanatic who loves building lasting relationships with clients and is always on call to arrange itineraries in Switzerland or abroad for her friends and families.
After meeting at the Ecole Hôtelière de Lausanne where they were both studying, Chantal worked in a luxury hotel in Geneva while Max started in a Swiss-based start-up as Project Manager. They then moved to London to continue their experiences in the luxury hospitality industry. 18 months and a heap of "fish & chips" later, they decided to come home, put all of the skills they learned and their knowledge of the region to good use and show tourists and locals alike what makes Switzerland really tick.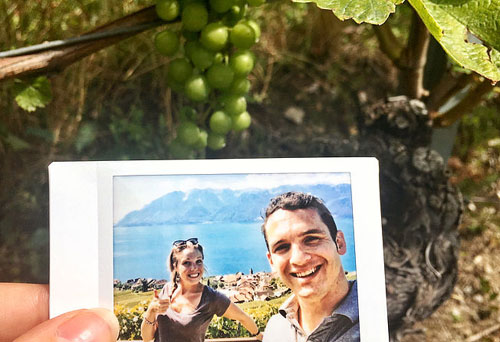 What makes them special?
Asked what makes their business special, Max told us, "During our travels, our favourite memories remain those where we got to know the locals, who shared with us their passions and their way of life. For us, that has always been much more powerful than a city's pretty façade."
He continued, "On the other side, you have Switzerland, an absolutely gorgeous country, that has an immense savoir-faire despite numerous complaints that "there's nothing exciting to do" and "everything is closed on Sundays". The truth is, there is so much more this country has to offer than just cheese, chocolate and its alps … Some pretty cool things too - but most things we're just not aware of, nor do we have the time to look for them. Enter Chantal & Max!"
September events
To launch their new business and to provide locals with an opportunity to get a taste of what Chantal & Max is all about, the two entrepreneurs have organized 3 special events in September. Click on the links to find out more about the unique experiences on offer!
September 3rd
Pilates-Hike up the Salève
Fr. 175.- per person including a 90-minute pilates initiation at the host's private studio, a guided pilates hike up the Salève, a picnic overlooking Lake Geneva, snacks, and return private transfer from the pilates studio to the Salève and back.
September 17th
Floating afternoon tea on Lake Geneva
Fr. 240.- per person including a 3-hour catamaran ride and Geneva's most delicious afternoon tea, complete with scones, pastries, finger sandwiches, tea and a glass of champagne.
September 23rd
Wine & Chocolate: from the making to the tasting!
Fr. 165.- per person including a chocolate-making workshop, a tour with a wine-maker to learn the secret to his quality wine since more than 3 generations, and a chocolate-wine tasting with views over Lake Geneva (subject to weather). Everyone will leave with a smile on their face, the chocolate they made, and a bottle of wine selected by the winemaker.
More events will be added to Chantal & Max's schedule throughout the fall so don't forget to check their website and our Events Calendar for new dates as they are added. Know-it-all passport editor, Lisa Cirieco-Ohlman has also been asked to host a special activity...more details to follow!
Chantal & Max
www.chantaletmax.com
This email address is being protected from spambots. You need JavaScript enabled to view it.
Save
Save
Save
Save
Save
Save
Save
Save