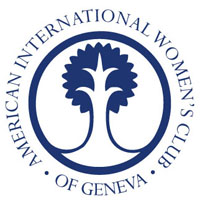 www.aiwcgeneva.org
This email address is being protected from spambots. You need JavaScript enabled to view it.
022 736 01 20
You don't have to be an American to join the American International Women's Club of Geneva! The AIWC is a non-profit club offering support and friendship to English-speaking women of ALL NATIONALITIES residing in the Geneva area.

Founded in 1958, the AIWC currently has about 700 members from 50 different nationalities. They speak more than 10 languages. Their purpose is to provide their members:

- A home away from home.
- An opportunity to make new friends.
- A smooth integration into the Geneva environment.
- A chance to participate in more than 25 regular activities and other events.
- A way to participate in community service.
Annual membership fees: Current membership fees are Fr. 250.- per year, with a small reduction for retirees. A one time only registration fee of Fr. 50.- is charged to new members.

For non-residents and visitors to Geneva:
AFFILIATE MEMBERSHIP: Fr. 150.- (renewable)
Available to members who live more than 100 km. from Geneva but would like to enjoy full membership privileges
6 MONTH MEMBERSHIP: Fr. 175.- (non-renewable, registration fee included)
2 MONTH MEMBERSHIP: Fr. 80.- (non-renewable, registration fee included)