Click on image for the video recipe
There is nothing more comforting than a bowl of homemade Chicken and Dumplings! Everyone makes dumplings differently and, although these are not up to the standard of my Tennessee family, we still enjoy them!
You can alter the amounts I have put here as you like. The result is the same!
— chopped celery leaves (I always freeze mine as soon as I buy the celery stalks)
— 1 Tablespoon olive oil
— 3 carrots chopped
— 2 onions chopped
— 2 chicken stock cubes
— chicken (I used 6 breasts but a whole chicken is best for flavor but a lot of work to pick out all the bones)
— 1 teaspoon celery seeds, optional (hard to find in Switzerland but you could add any other spice you associate with chicken)
— boiling water to cover chicken
Cover and let simmer about 20 minutes for chicken breasts or 30 minutes for a whole chicken.
Remove chicken and shred by pulling apart with 2 forks (for breasts); if using a whole chicken you can debone at this point and discard bones and skin. Set aside.
Make dumplings. Sift into bowl:
— 2 cups flour
— 1 teaspoon salt (more or less)
— 1/2 teaspoon baking powder
— 1/2 teaspoon baking soda
Add:
— 1 cup milk (or water if you prefer).
Stir together until just mixed. Tip out onto a floured board. Pat into shape with your hands. Don't over-mix or knead as this will make the dumplings tough.
Add some more boiled water to the stock and drop dumplings quickly into the pot. Simmer for about 10 minutes. Return the shredded chicken back to the pot and let simmer for a further minute.
Serve and enjoy! This can be refrigerated once cooled down, or frozen. It is even better as leftover so make sure to double the recipe if you are feeding a crowd!
#followlisanow #chickenanddumplings #comfortfood #easychickenrecipe #homemadedumplings
Video link: https://youtu.be/MQtaNUxD_-w
Author bio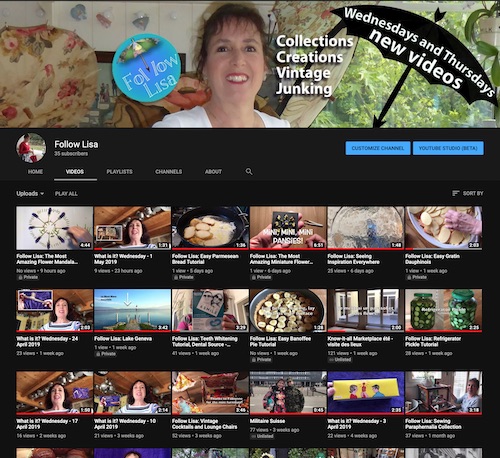 Follow Lisa: See her collections (many, many), her crafts that touch on every type, and hear snippets of advice, tips, and information relating to her little "museum"!
Encouraged by her family and friends, Lisa Cirieco-Ohlman jumped at the chance to share her passion for her collections, her creations, her junking excursions, and the colorful home she lives in. Tutorials, DIY, informative tips, cooking favorites, testing, cleaning and display advice, "What is it? Wednesdays", and creative solutions round out this "Follow Lisa" channel.
New video uploaded every week.
If you would like to Follow Lisa, go on this link www.youtube.com/c/followlisa and please click "subscribe" and the little bell to stay abreast of new posts! Comments are more than welcome too. #followlisanow