It's that time of the year when flowers are blooming, the sun is beaming into your home and you look around and clearly see that you have much freshening up to do.
Here are a few tips to kick-start your spring-cleaning before the busy season of summer begins:
DE-CLUTTERING
Take time to review all your home items purchased over the years. Decide whether you actually need these items, when was the last time you used them and would you actually miss them. You are then ready to put the clutter into 3 categories or boxes:
Items that must be thrown away
Items that can be given away or sold
Items to be stored or put away
ORGANISING CUPBOARDS & STORAGE
Get stuck into those kitchen and bathroom cupboards, remove everything and throw away anything from tins and jars to paracetemol that have exceeded their use-by date. Give the cupboards a thorough clean before returning any items.


In terms of our wardrobes and clothing, its time to pack away those winter clothes – jumpers, coats, gloves, hats, etc. and replace them with our spring/summer ones. This needs to be done properly, to protect the clothing. So remember to store clothing in a clean, cool, dark and dry place.
For your bookcases, take the books off and use the 3 box decluttering process. Give the shelves and books a thorough clean before returning them.
Do consider reorganising your books and sort by size and subject. Line books, some vertically, some horizontally – visually more interesting to the eye.
TIME TO DEAL WITH THE BIG CHORES
This is the perfect time to get round to those chores that need to be done but we avoid most of the year. Clean your windows inside and out, your carpets, rugs, and tiles. There are so many wonderful detergents to help you.
Take down your curtains - machine-washable, hand-wash or dry-clean, now is the time to clean them.
QUICK MAKEOVERS
One of the easiest and least expensive ways to freshen up or add a different colour to your interior, is to change your textiles. These include bedding, towels, table linen and my favourite sofa cushions.
This married with all the spring-cleaning will make your home feel brand new!!
Don't forget to sign up for our next workshop on 'Lighting in the Home' – Tuesday May 27th in Nyon. We will be looking at the key lighting principles and how to put a lighting plan together. What fittings to use and where to place them. Light layering in the home to create mood & ambience.
Author's bio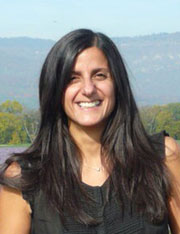 Trained at the KLC School of Interior Design in London, Sophia Kelly ran her own Interior Design practice in London for over 10 years.
Building on the success of her UK business, Sophia has now set up a new design practice in Switzerland, called Sophia Kelly Home Design. Responding to the growing demand for home design services in the international community, Sophia provides a range of tailor-made services, which are perfect for clients who have just moved into a new home or who simply need help reorganizing one that they have lived in for many years!

Sophia Kelly Home Design
This email address is being protected from spambots. You need JavaScript enabled to view it.
078 612 57 45