By Sarah Santacroce at Simplicity
If I received 5$ every time someone asked me that question I would be a very rich Swiss lady. Do you have a free account and are wondering if you should upgrade? Or maybe you're paying the monthly fee but are not sure if it's really worth it? Read this post for some answers (and my personal opinion)
Disclaimer: the opinion and views expressed in this post are solely my own and might not represent those of other LinkedIn experts – or LinkedIn itself.
So should you pay for a LinkedIn Premium Account?
It depends… on your general knowledge about LinkedIn, on your profile, on the objectives you are trying to achieve, on your position (are you a recruiter, a sales professional or a business consultant?)… There is no standard answer. But… in my experience a lot of people are wasting their money on the paid account. But I'll get to that. Let's look at the benefits of a Premium Account first:
Real Benefits of the Premium Account

Unlimited searches
With a paid account you have access to unlimited searches via the advanced people search tool. This is a big advantage if you're a sales person for example. Because LinkedIn has recently introduced the 'commercial search limit', which means that after a certain number of searches (estimated between 60 and 100) you will be blocked and no longer have access to the full list of search results. See my update at the end of this post.
More search filters
If you are using the 'Advanced Search' window regularly you may have noticed that on the right hand side you see additional search fields that are only accessible to members with paid accounts. So if this is a functionality you use often, you might find it necessary to get the paid account. I find the option to search via Groups especially useful. (of course you can search in groups individually as well)
More saved searches (5 instead of 3)
If you're in active prospect research the saved searches come in handy too. With the free account you can save up to 3 searches, with the paid account you get 2 more.
Open Link
When you have a paid account, anyone on LinkedIn can send you a message for free, whether you are connected or not. That's a nice feature, but you can easily also just mention your e-mail in the Summary section for example.
Visibility
Another real benefit of the premium account used to be that you see more of people's profiles and more of their name. But in their last update (May 2015) has changed the way they handle search and now all free accounts can see the names and profiles of people of their 3rd degree connections. However, as mentioned above, free accounts will hit with a monthly 'commercial search limit' and be asked to upgrade their account.
Pretend Benefits of the Premium Account
InMails
I recently wrote a post about 'Why I don't Open Your InMail'. That's how much I dislike InMails. Unfortunately they have been abused by too many sales people and now every time I receive an InMail I think: ah, someone wants to sell me their stuff! So I don't find InMails worth paying for. There are other options to send messages to people you are not connected with.
More Introductions
When's the last time you have used an introduction? Probably never, right? So do you really need 15 introductions per month?
Who's Viewed My Profile
Yes, it's nice to see the whole history of who's visited your profile. But is it worth the Premium subscription? With the free account you always see the last 5 people who have visited your profile. So if you go over 5 per day, you either need to upgrade to Premium, or visit the 'Who's Viewed My Profile' more than once per day. Up to you. It's as always: either time or money.
99% of people with paid accounts are wasting their money
Maybe by reading this post you have realized that you don't even use half of the benefits of a paid account? You're not alone. Furthermore, there are so many features that you have access to with the free account that you might not know about. So rather then spending a monthly fee on something you don't use, why not invest in some training instead? You can start with my free e-book below or check out my 15-part video course !
Update: the recently introduced commercial search limit is to me now the reason why to certain clients I recommend the LinkedIn Premium account. It is very frustrating to be blocked around the 15th or 20th of the month because you have reached that limit. Do a test! How fast do you reach the limit? If it's before the 15th it's probably worth upgrading ! :-)
Author's Bio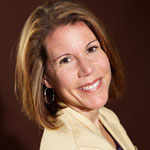 Sarah Santacroce is a certified social media, internet marketing, and virtual event specialist. She enjoys every aspect of small business marketing. It is her mission to help other small businesses and solopreneurs increase their visibility and use social media tools as part of their marketing strategy.
Sarah draws on 12 years of experience in Business Administration, in fields ranging from Employee Training to Public Relations at big and small companies. She became interested in Online Marketing and Social Media to promote her own business and after lots of research and numerous classes and webinars she is now offering that knowledge to other small- to mid-sized businesses who struggle to find their place on the web.
This article is part of a series of regular contributions that Sarah will be making to her guest blog on knowitall.ch. You can see more articles from Sarah on her own website at: www.simplicitysmallbiz.com
To sign up to receive Sarah's newsletter, just fill in your details below: