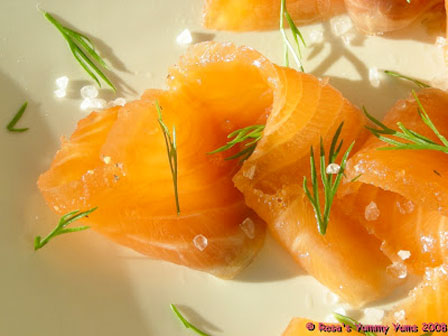 Read the full blog entry from Rosa's Yummy Yums
One New Year's eve, I wanted to make something which would be stressless, not finicky/fussy at all, cheap and yet very tasty as well as festive. That's how I fell into that gorgeous Marcus Samuelsson recipe...
In fact, I had been meaning to taste "Gravelax" for some time, but somehow never got to make it. As I love smoked salmon, I was pretty sure that I would adore it's Scandinavian close cousin.
"Gravlax" or "Gravadlax" is salt-cured raw salmon (it is NEVER smoked) which is rubbed with a mixture of sugar, salt, pepper and fresh dill. It is generally served as apperitive and accompanied by a dill-mustard sauce named "Hovmästarsås". "Lax" means "salmon" and "grav" literally means "grave" or "whole in the ground". At the origin, during Medieval times, "Gravlax" was in fact salmon buried into the ground... This delicacy can be found in Sweden and Denmark ("Gravlax/Gravadlax"), Finland ("Graavilohi"), Norway ("Gravlaks") as well as in Iceland ("Graflax").
If you love raw salmon, then "Gravlax" might interest you. It's flavor is maybe less imposing than smoked salmon, but, on the other hand, it is more delicate, refined and somehow more complex.
"Gravlax" has a slightly sweet and salty taste with peppery notes and glorious dill connotations. There is no hint of fishiness here, just the pure and faint aromas of good fresh salmon! Through the curing process, the fish's flesh loses a lot of it's water and becomes firmer, yet very silky smooth, velvety and buttery. It's melt-in-your mouth, unctuous texture is incredible and it's color is glorious! "Gravlax" is very similar to smoked salmon (minus the smokey taste), although I would say that it is far moister...
This elegant recipe is fantastic and very impressive! You will love it and so will your guests!
~ Gravlax With Mustard Sauce ~
Recipe by Chef Marcus Samuelsson and slightly adapted by Rosa @ Rosa's Yummy Yums
Serves 6 to 10 people.
Ingredients for the Gravlax:
1/2 Cup Coarse sea salt (Kosher salt)
1 Cup Castor sugar
2 Tbs White peppercorns, cracked
900g-1,2kg (2 1/2 to 3 pounds) Fresh salmon fillet, skin-on, in one piece and any pinbone removed
2-3 Large bunches fresh dill, coarsely chopped (including stems)
Ingredients for the mustard sauce:
2 Tbs Honey mustard
1 Tbs Dijon mustard
2 Tsps Castor sugar
1 1/2 Tbs White-wine vinegar
Salt, to taste (not to much though)
Black pepper, freshly ground, to taste
1 Tbs Strong black coffee, cold
3/4 Cup Grapeseed or canola oil
1/2 Cup Fresh dill, chopped finely
Method for the fish:
1. Mix together the salt, sugar, and peppercorns in a small bowl.
2. Rub a handful of the mixture on both sides of the salmon, place it in a shallow dish, and sprinkle with the remaining salt mixture.
3. Cover the salmon with the dill, and allow to stand in a cool spot (but not in the refrigerator) for six hours.
4. Cover with plastic wrap, transfer to the refrigerator, and allow to cure for 36 hours.
5. Wipe the seasonings from the salmon with a paper towel.
6. Cut the gravlax on the bias into thin slices, or leave whole for your guests to slice.
Method for the mustard sauce:
7. Combine the mustards, sugar, vinegar, salt, pepper, and coffee in a blender.
8. With the machine running, gradually add the oil in a very slow, steady stream, until the mixture is thick and creamy.
9. Transfer the sauce to a bowl, and stir in the dill.
10. Cover and refrigerate for at least 4 hours, or overnight to allow the flavors to mingle.
11. Serve with the salmon.
Remarks:
If you don't have "Honey Mustard" at home, then take 1 1/2 tablespoons "Mild Mustard" and add 1/2 tablespoon runny honey.
In case you can't find any "Dijon Mustard" (1 Tbs), then use the same quantity "Mild Mustard" and add 1/2-3/4 teaspoon powdered "English Mustard" (Colman's).
Instead of using canola oil or grapeseed oil, you can very well use sunflower oil.
The gravlax will keep up to a week in the refrigerator if it's well-wrapped in foil and plastic.
You can also keep it in the freezer for up to two months.
The sauce can be prepared up to one day ahead and keeps easily up to a week in the refrigerator.
For more infos concerning the method, click here.
Serving suggestions:
Serve with slices of whole-grain/rye bread, toast bread (or any king of bread that pleases you/see my recipes), "Potato Gratin" (with thinly sliced potatoes, butter, crushed garlic and ground black pepper), plain boiled potatoes, "Hasselback" potatoes, oven-fried potatoes/fries and the "Mustard Sauce".
Author's Bio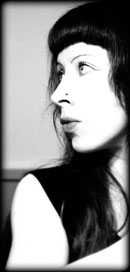 Rosa Mayland, the creator of Rosa's Yummy Yums, lives in a small Geneva countryside village situated in the French speaking part of Switzerland - a few meters away from the French border. She's an Anglo-Swiss food enthusiast who loves photography, loud rock or electronic music, walks in the countryside, meeting interesting people, cats, books and independent films. When she's not writing for her blog, you'll also find her over at The Rambling Epicure, a daily international food chronicle and online newspaper to which she contributes as a freelance writer.

As you can imagine, she is very passionate about cooking/baking and can spend hours surfing the net for inspiration, reading blogs, creating dishes, testing new recipes or going through cookbooks and magazines. She is crazy about flavorful and soul-uplifting grubs, spices and yummy textures, therefore she's particularly fond of Asian, Caribbean, Mediterranean, South American, Middle Eastern delights as well as regional and traditional specialities!
Rosa has kindly agreed to let us post some of the recipes from her blog on knowitall.ch. Each month we will feature a new dish from her site, but due to space limitations we will only publish the recipes listed in each blog entry. However, you MUST click on the link provided with each recipe to read for yourself the inspiration behind each of the dishes prepared by Rosa and to see the wonderful collection of photos accompanying each dish. Many of these photos have been taken at locations in and around Geneva - see if you can work out where they have been taken!