By Hiba Giacoletto, Healthwise
This is a basic chia seed pudding recipe that combines the magic of spices and with orange and lemon zest to create a very winter-y taste.
Chia seeds contain 20% protein, 25% dietary fiber and about 35% healthy fats, mostly Omega 3. They are also a good sources of iron, calcium and other vitamins and minerals.
Chia seeds are great for thickening foods due to their jelly like consistency in liquid. This makes them an ideal ingredient in puddings so healthy you can also have them for breakfast, like this one!
This recipe takes only a few minutes to whip up and can be kept in the fridge for several days. I usually have chia pudding as a breakfast or dessert and you can also have it as a snack.
Blend together:
2 Tbsp almond butter + 3 dl water or 3 dl almond or other nut milk
2-3 Medjool dates
¼ tsp cardamom + ½ tsp nutmeg + ¼ tsp cardamon + 1 tsp cinnamon
Then add to the blender:
40g or 1/4 cup chia seeds
zest of 1 organic orange and  1 organic lemon
Pulse very briefly on the lowest setting of your blender – just enough to mix the chia seeds and lemon and orange zest with the other ingredients.
Place in individual cups or one big jar and put in the fridge to set for at least 2 hours. The pudding will take on a more solid, jelly-like consistency when it is ready.
Want more recipes like this?
Download my Healthy Sweet Christmas eBook with recipes for cookies, granola, chocolate and spreads that are all gluten, dairy and refined sugar-free here: http://www.healthwise.ch/free-ebook/
Author's bio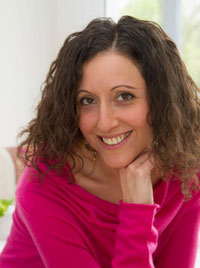 Hiba Giacoletto is a Certified Health Coach from the Institute for Integrative Nutrition (IIN) with a Masters Degree in Psychology
Hiba helps people lose weight, feel more energetic or take control of their eating without diets or deprivation. She believes that no one way of eating or living works for everyone and that it is about experimenting to find what truly works for you. She uses a unique blend of NUTRITION + PSYCHOLOGY + COACHING to help people start trusting their body's wisdom to make food and lifestyle choices that enable them to look and feel their best. She is convinced that regardless of what you might have tried in the past, she can help you get unstuck, overcome self-sabotage behavior and find your mojo!
You can book a FREE 45 minute Health Chat via her website, www.healthwise.ch to find out whether Health Coaching is right for you.
www.healthwise.ch
www.facebook.com/healthwise.ch
www.twitter.com/HibaGiacoletto
www.pinterest.com/healthwisech/