The American TV station, Home & Garden Television (HGTV), is launching a brand new series that will feature the stunning home properties of American expats living abroad. With over 90 million viewers and a huge web following, the station has chosen Geneva as one of the first locations to be featured in the new show.

In the Geneva episode, the program host will explore four homes looking for great design ideas and highlighting the value-added elements within each space. From interior design to the lifestyle and culture of the area, the homeowners will give viewers a first hand look at what it's like to live overseas.

Filming will begin in Geneva the week of July 11th. Chosen homeowners will need to commit to one day of filming (the interview portion only takes about 3 hours; the remainder of the day is spent taking beauty shots of "your space"). The producers hope to have completed "casting" no later than June 1st so if you're interested in taking part, don't waste any time contacting them.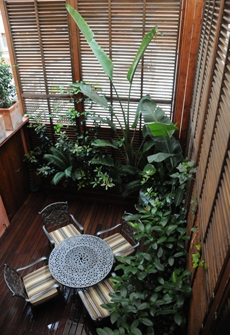 Applicants are requested to submit pictures of themselves and their homes (interior and exterior shots). If the producers like your space they will then contact you to set up a phone interview.

According to producer, Katie Woolsey, this will be one of the most artistically shot programs on the HGTV network. She says, "We are looking for fun, outgoing, enthusiastic homeowners in Geneva, so don't wait to be a part of this amazing opportunity!"

The new, as yet untitled, show will be aired in America in the fall and should be available for viewing on www.hgtv.com.

If you're interested in applying, please contact Katie immediately, and email photos of you and your property to:

This email address is being protected from spambots. You need JavaScript enabled to view it.
001-303-872-8678 (USA)
www.hgtv.com
Do you want to sell your house quickly by making it "pop out" above the others? Do you want to get the most money from your house without entering into the negotiation process?

If so, you should take a look at the services offered by Irrésistible Intérieur, specialists in "home staging" – a marketing concept that was pioneered in the USA in the seventies and which consists of preparing your home so that it sells faster, and for more money.

Owner, Marie-Hélène Tallon, explains, "Staging is all about creating the most interest in your home by presenting it in the best possible light without spending too much money."

She adds, "It is a well known fact that 90% of people are unable to imagine anything beyond what they see. So if they see a bedroom cluttered with too much furniture, or a lounge decorated in fabrics that are not to their taste, they are immediately turned off. The first few seconds are crucial – if the first impression is bad then it's almost impossible to change their opinion later."

Having taken classes in interior design at the Ecole Athenaeum in Lausanne and followed a Home Staging training course in Paris led by Sylvie Aubin from En Toute Sérénité, Marie-Hélène is well qualified to help you transform your house into something the buyer is looking for – prinicipally "space", "light" and a "welcoming feel" as soon as they enter through the front door.
With snow on the ground and Christmas round the corner, probably the last thing on your mind at the moment is the thought that your garden needs some maintenance work doing on it, or your house requires some essential improvements!
Actually, now is a good time to start planning these projects so that you can be ready to get started on them as soon as the festive season is over. If the only reason you are putting off the work is because you are phased by the idea of having to communicate in French with local tradesmen, then you don't need to delay any longer.
Local company, Casajardinia, has lots of experience working with international clients, and can "cover" most languages spoken in the region, including German, English, French, Italian and Spanish!
The company works with private individuals, local relocation companies and estate agents, offering clients a range of services for the garden and the home. Garden services extend from lawn mowing and hedge trimming, through to the installation of lights and sprinkler systems. Work can be carried out as part of an annual maintenance contract or according to demand.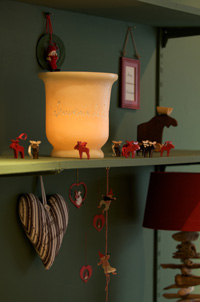 Winter's here, and as always the
Maison du Lac
is transformed with a stylish Scandinavian decor in warm, sophisticated tones. Danish owner and keen decorator Kristine Rasmussen has created a cosy, festive boutique offering stylish, seasonal ideas for your interior.
Look out for a host of unusual accessories, a veritable invitation to the delights of hibernation and cocooning: after you have purchased a few essential items at Maison du Lac you will be able to curl up by the fireside with a soft alpaca throw, or watch the snowflakes fall outside your window while sipping a delicious hot chocolate from one of the boutique's mugs, whose captions invite you to "Have tea with me" or sample a rich "latte").
Best of all, you will be able to invite family and friends to a festive meal around a table decked with "reindeer" candleholders and frosted candles. If you are struggling for home decoration and gift ideas this Christmas, this boutique is definitely one to put on your shopping itinerary!
Maison du lac, Rue Saint-Victor 24, 1227 Carouge / Tel. 022 301 8522 /
www.maisondulac.ch
If, like many families living in this region, you bought your first sofa from IKEA, then the chances are that it is looking a little worse for wear now – especially if you have young children or own a cat or dog.

Local mom, Sooah Barbieri, did just that and was wondering recently what to do with her old armchairs, which were now looking very stained after several years abuse by her children! When she went to IKEA to buy replacement covers, she was told that her range had been discontinued and they no longer made covers for them.

She was on the verge of throwing them out, when a friend suggested she take a look at the website of Swedish company, Bemz (www.bemz.com). Bemz sells sofa covers that have been designed to fit all of the most popular models of IKEA sofas and chairs, even the discontinued ones. Selling to over 35 countries worldwide, their covers are custom made and are provided in over 160 designs and colors in natural textiles, including those from well known designers such as Designers Guild and Marimekko. Their covers are completely machine washable and are extremely simple to put on and take off.

Sooah first ordered swatch samples, which are free when you register on the site. This took about a week and when she placed an order for her covers, she was told they would take about 6 weeks to arrive, but in fact she received them within 4 weeks, via TNT. Impressively, there were no additional surprises like extra customs duties or taxes on delivery.

According to Sooah, the workmanship on the new covers is excellent and the price (including shipping) compares very favorably to the price she paid for the original ones. She concludes, "This was definitely an inexpensive way to give my poor, milk-stained armchairs a second life!"

So if you want to give your sofa a new lease of life, take a look at www.bemz.com!
Article update 10 November 2010: Sooah received a customs and duties bill from the carrier shortly after she received her order. So be warned, it's not all good news!