20% Earlybird discount for tradespeople who sign up before end of April, 2014
A new website has just been launched to help homeowners in Switzerland find local tradesmen and artisans that they can trust.
Called TrustedArtisan.com, the website provides an online market place where homeowners can post a project online, receive quotes from tradespeople registered on the site, and then select a company to do the job, according to the quality of reviews posted by former clients. The service is free to homeowners, but artisans must pay an annual subscription to be listed on the site, and a small commission on any significant projects over Fr. 20K, undertaken as a result of being contacted through the site.
The idea for the new website came from James Amoah, a specialist in operations management at Kaleidoscope International, a niche supply chain and business solution consultancy, focused on finding innovative customer services for businesses. James told knowitall.ch, "The concept for TrustedArtisan.com came through my own personal frustration at having no immediate access to recommended artisans, nor any means to assess their performance or vent frustration when jobs were performed inadequately. When my wife, Sarah, and I talked to friends and work colleagues, we realised that we were not alone with these frustrations and things could be much better than they were."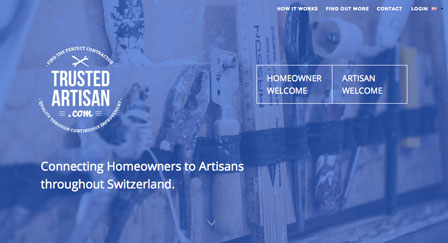 He continued, "In October last year, we set up a consultancy division within Kaleidoscope to begin the process of creating that "better experience" for anyone needing artisans that were reliable, trustworthy and rated by real customers. Working with a small team of consultants and volunteers, our goal was to produce not just a website, but a strong customer service engagement with homeowners and artisans. In addition to the website, we have a team of people on hand who can be contacted either online or by phone, who will answer your questions in English, French, German or Italian."
Launched on Monday 17 March, 2014, the website is still very much in its infancy and currently has just a few artisans, including a painter, furniture maker and chimney supplier featured on the site. The company is therefore very keen for artisans to sign up to the website as soon as possible, so that they can start putting them in touch with their database of homeowners looking for work to be done in their homes. For the same reason, homeowners are invited to go on the site and submit details of their home renovation projects, no matter how small, so that artisans can see what work is available and submit quotes for the work posted.
How it works for Homeowners
If you are a homeowner with a specific job in mind, you must first register your details on the site. Registration is entirely free. Once your details have been submitted, you are invited to post your job on the site, specifying the type of job involved, and providing a brief description of the work entailed. The information should be as precise as possible, so that artisans can provide you with an accurate quote. Homeowners may also upload photos relating to the work so that artisans have a better idea of what is involved.
Once your job has been posted, tradespeople registered on the site then have the option of bidding for the job. Once your quotes are "in", you can then compare the details of the companies provided on the TrustedArtisan.com site, view pictures of any work done in the past and, importantly, read reviews on each of the companies provided by former clients.
Once a job has been completed you are encouraged to submit a review to the site so that others can benefit from your experience.
How it works for Artisans
If you are an Artisan looking for clients, you are required to pay a relatively small annual subscription (at Fr. 2.80 per day, this is less than the average cost of a cup of coffee) so that your details can be posted on the site. When you first log in, you are asked to provide information on your trade qualifications, insurance, accreditations, professional memberships, and three customer references. If you're not sure what to provide, or something is missing, you may contact TrustedArtisan.com's customer service personnel for assistance. Once all the information is submitted, the data will be checked using a stringent verification process to ensure that, even when there are currently very few reviews on the site, homeowners can feel confident that the artisans featured on the site are not "cowboys"!
To encourage more service providers to sign up in the early stages of the site's development, TrustedArtisan.com is offering a significant reduction on the standard fee, which is normally Fr. 996.-.per annum. An Earlybird discount is currently in operation, offering tradespeople 20% off their annual subscription if they sign up before the end of April, 2014.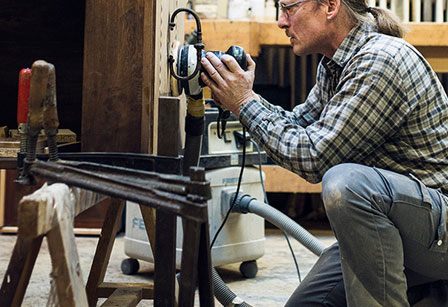 In the first phase of the site's development, TrustedArtisan.com will be provided in all regions of Switzerland, and will be available in French, English, German and Italian. In phase 2, tradespeople operating outside Switzerland but close to the Swiss border will also be eligible to register on the site, and will be subject to the same validation and verification process as Swiss artisans.
Trusted Artisan

www.TrustedArtisan.com