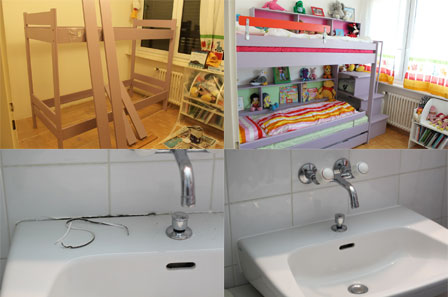 Who isn't searching for a handyman to come in and fix, repair, or touch-up something? If you aren't handy yourself, or don't have the time, then this is just the kind of recommendation that you should note down. If you have just moved into a new place and need a washing machine, dishwasher or light fixtures to be installed, furniture to be assembled and curtain rails put up, or if you have been living in the same place for years, but have just noticed the hallway needs repainting or the flooring replaced, then Mike is the handyman to contact! With his website's name, Hire my Husband, who wouldn't want to find out more?
Mike will help you with carpentry, painting and decoration, installation of light fixtures, washing machines, dishwashers, assembly and installation of flat-pack furniture, flooring, basic electrical and plumbing fixing, hanging of flat screen TVs and picture frames, curtain rails, and more.
In short, if you are looking for quality service from someone who will care for your home and who is reliable at a competitive price, then Mike is the man for you. He can tackle any of those odd jobs that you can't manage yourself or simply don't have time to do.
But don't just take our word for it - read what other clients have told us:
A recent customer, Sue, told knowitall.ch, "I hired Mike this past week to hang curtain rods and curtains, and some art work in my apartment in Geneva. He did a great job and is a very pleasant man, with a great sense of humor! I will definitely call Mike again for any future jobs!"
Miriam told us, "Mike is outstanding in his work which gave me great satisfaction and I am impressed by his strong professionalism. In addition, Mike is extremely creative. He found aesthetical solutions to all the problems I wanted him to fix in my flat: lights, electricity, painting, decoration and organization of a guest room. Moreover, I felt confident to give him the keys of my apartment as I could not stay at my place during his work. And last but not least: his cordial personality allows positive and pleasant exchanges over a cup of coffee."
Mike will provide a quote and make sure that everything is clear with his customers before he starts any work. He takes great pride in his work and gives a professional service to ensure that all his customers are satisfied. He will cover most locations in the Geneva area, as well as neighboring France.
For more information please go to www.hiremyhusband.ch.