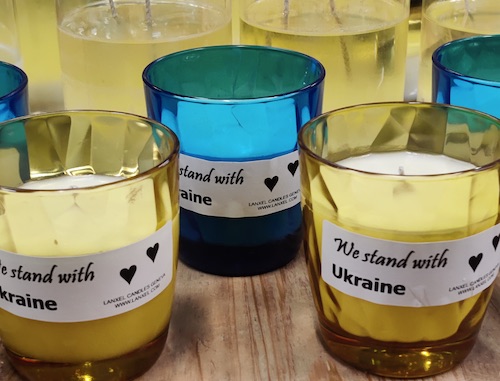 One of our favorite people and favorite products has to be Lanxel Candles. Run by Lotte Lanxe, this local resident of Danish origin, founded her company a few years back and has gone from one success to another. She produces beautifully scented, minimalist rapeseed candles that can be used as massage oil as well. The candles are eco-friendly and made in small batches.
Look out for our upcoming article coming out 9 January 2023 about Lanxel Candle Workshops that will include a discount!
Meanwhile, Lotte is very busy with a multitude of upcoming workshops but wanted to get the news out about this charity volunteer opportunity for all those wishing to make a difference. Here is what she wrote:
"A French charity asked me if I would donate candles to Ukraine. I donated 250 candles and with the help of my swim group we are now making 500 candles. It's a drop in the ocean that makes me think... if I can find sponsors, we could do so much more.
"So I'm looking for people who will donate glasses such as old candle holders or small plant pots, jam jars, IKEA glasses from the 365 series, etc. or donations so I can buy more wax."
Lotte goes on to say, "But I'm also looking for someone who could come on board and help me with a crowdfunding campaign, run social media , contact international schools, and more.
"Please let me know if you have anyone in your network that would get involved and have knowledge of crowdfunding, contacting non-profit organisations, companies. I think the project will last until April 2023. I already have 4 Ukrainian refugees helping me make the candles."
We hope this article will peak someone's interest. Please contact Lotte directly for more details.
Lotte Lanxe
Lanxel Candle Studios
La Voie-Creuse 16
1202 Genève
www.lanxel.com
This email address is being protected from spambots. You need JavaScript enabled to view it.
+41 (0)77 955 19 60