Coronavirus has impacted us all in one way or another. Hopefully, you are keeping safe and well. If you have to keep keep yourself holed up at home, then you might as well make the most of it. There are certainly a number of projects you have had on your to-do list and with the economic slowdown due to COVID-19, people, shops, and companies have had to become creative!
If you are signed up for company newsletters then you will see just about every subject line mentioning this outbreak in some way, shape, or form. From cancellations to free delivery, you will certainly have enough reading material!
We will keep up with the news for you and post free-of-charge in our newsletter on a weekly basis. If your company is offering something special, please This email address is being protected from spambots. You need JavaScript enabled to view it. us.
From help getting errands to how to keep yourself or your kids busy, from working at home to talking to someone about your anxiety, here are some picks of the week:
ERRANDS: Multiplicity - Your Personal Concierge
We caught up with Karin from Multiplicity, established in 2009. To help deal with this crisis, she has kindly offered the member's price until end-April to do your errands for you. This offer to run errands for people who are stuck at home, either with their kids, or are at risk themselves, or not wanting to go out because of fear, is a very kind offer.
Karin explained, "We can take payment electronically or by TWINT and in case they worry about face to face, we can also just drop things at their doors. Also my team mate who is a great handyman, can come to people's home to help with finally putting up that painting on the wall or other odd jobs in the house that people might have time to think about now that they are home."
Prices are Fr. 60.-/hour with a one-hour minimum (this is the members rate, non member is Fr. 80.- but they are giving everyone the member price during this period). Cost of grocery or errands on top obviously. Feel free to ask for more details at this link.
GARDEN CENTER DELIVERY: Jumbo
We were delighted to find out that Jumbo Garden Center is offering free delivery for purchases over Fr. 150.- even for large heavy items. Here are the details: Until 30 April 2020, you can benefit from free standard delivery in the JUMBO online shop if the value of your basket is more than Fr. 150.-. Standard delivery is for the dispatch of letters, parcels, bulky items and pallets. These can be delivered to the letterbox or to the curbside. See website for more details at this link.
TALKING ABOUT YOUR ANXIETY: Balanced Healing
Laraba Friedman will be available during the day via phone or video calling if you would like to talk about the current situation and how to best manage your stresses or concerns - This email address is being protected from spambots. You need JavaScript enabled to view it. or 078 839 42 29. Laraba told knowitall.ch, "Given this situation, you may realize it is time to take a look inside and make some changes to your life—maybe your new priorities are more visible and you need help in getting to them. As your emotions fluctuate, please take the time to manage your emotions—breathing is key in keeping your head and body clear and calm. Below is a form of conscious breathing that I find useful in getting one's mind and body to a relaxed state. I learnt it from a great doctor called Andrew Weil. Remember you can do this anywhere." Check her facebook page for the breathing exercise.
Laraba has kindly offered knowitall.ch readers a discount of 20% this week. Normal price is Fr. 150.-/hour coaching session and with the discount it will be Fr. 120.-/hour. Just mention this article.
FREE RESTAURANT DELIVERY: La Caravan Passe
This Lebanese restaurant, la Caravan Passe, located in the Pâquis neighborhood is one we can recommend. Situated across the street from where Know-it-all Marketplace Summer edition 2019 was located, we can vouch for delicious, fresh food. We saw the chef arrive every morning to prepare for their dinner service and made it fresh every day. This restaurant is offering free delivery for Geneva and Vaud on all their lunch box orders for 4 people until 31 March 2020. Lunch boxes are all priced at Fr. 25.- with one exception Gourmet at Fr. 27.-:
Traditional
Kafta, kebbe, hummus, eggplant caviar, chicken chich taouk, eggplant with garlic, falafel, tzaziki, couscous with raisins
Gourmet
Kafta, hummus, garlic yoghurt, chicken wings, chich taouk, rice with lentils, kebbe, fatayer, meat fatayer (stuffed triangle)
Vegetarian
Eggplant with garlic, vegetarian kebbe, fatayer feta, eggplant caviar, vine leaves, tabbouleh, hummus, tzaziki, falafel
Egyptian
Falafel, fūl, lentil rice, tomato and eggplant salad, hummus, spinach fatayer, taratore sauce
Gluten-free
Hummus, falafel, chicken chich taouk, garlic aubergine, tzaziki, lentil rice, chicken wings, Greek salad
Vegan
Vine leaves, hummus, falafel, eggplant caviar, lentil rice, vegetarian kebbe, tabbouleh, spinach fatayer
See website for more details at this link.
WORKING FROM HOME
There is now the need to transition from co-located workplaces and classrooms to remote settings. Here are some free websites that will get you started:
G Suite announced free Enterprise features until July 1, 2020.
Microsoft Teams announced six-month-long free trials.
Loom, a video messaging platform for the workplace (and classroom), has removed the recording limit on their free plan — what was 25 is now unlimited and extended all trials of Loom Pro from 14 to 30 days until July 1, 2020. Loom Pro is now free for education for schools to use indefinitely.
CHILDREN'S ACTIVITY: Exploracentre
Exploracentre is offering an alternative for childcare until the schools are allowed to open their doors again. On Monday, Tuesday, Thursday and Friday for this week, they welcome your children (8-12 years old) from 8h30-16h. Wednesday is possible on request. Restricted to 15 children by prior reservation. The museum will be strictly reserved for them on this occasion and their scientific mediators will follow strict health guidelines. Click here for more information or by This email address is being protected from spambots. You need JavaScript enabled to view it..
STAY AT HOME: Creative tutorials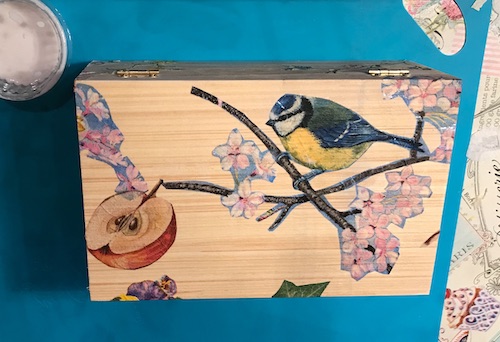 If you are the creative sort, then please excuse this obvious self-promotion. The YouTube channel "Follow Lisa" has some great tutorials that will keep you busy and creative. Whether you are a whiz in the kitchen or on a craft table, you will surely find inspiration here. Not listed are many more videos, so please have a look at the "ALL" playlist and make sure to subscribe too!
Creative tutorials
Beaded "Drink Me" Wine Cooler
Napkin Decoupage Jewelry Box
Bleeding Heart Mandala Clock
Mini Pansy Jewelry
Stenciled Tea Towel
Flower Mandala Part 1
Miniature Flower Mandala Part 2 (my personal favorite)
Painted Glass Lantern
Next time: Recipes
SEND US YOUR OFFERS OR IDEAS
What are you offering? This email address is being protected from spambots. You need JavaScript enabled to view it. us and we will compile another list for our readers! Stay safe, stay sane, stay home.