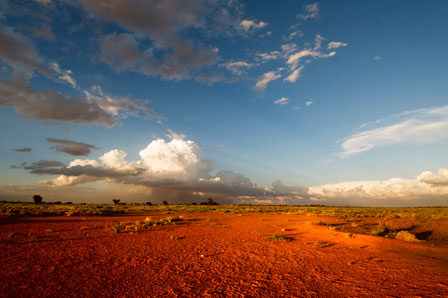 Photo courtesy of Alison Pouliot

Despite the 24 hours of flight time, Australia has become the dream destination for many Europeans. This ancient mysterious land, inhabited by one of the oldest human cultures, has only known European settlement for a little more than 200 years.
No need to travel so far to get a taste of the dynamic and multicultural melange of ancient and modern that is Australia today. From 28-30 September, the Australia Festival is coming to the Esplanade du Lac in Divonne-les-Bains, France.
"We're excited to share such a diverse and rich program. Together we will explore the land and culture of Australia that is both ancient and modern at the same time," says festival director, Bronwyn Lay, an Australian writer who lives in the nearby village of Vesancy. "The Australia Festival 2012 will bring together the international community with the local people of the Geneva region and beyond. There's an eclectic offering of live performances, creative workshops, art exhibitions, indigenous films, family activities and great Australian food and wine."
Photo courtesy of Rod Best
"The festival is bound to challenge some of the stereotypes about Australia," says Bronwyn. "We are fortunate to have gathered for the festival weekend an amazing group of creative and interesting Australians. We hope the French and English-speaking communities will come and support this unique event and discover a new perspective on Australia…and have a good time as well!"
This bilingual arts festival has something for everyone - whether you enjoy the quirky Australian sense of humour of our films and theatre productions, are fascinated by Aboriginal culture and art, would like to have a go playing the didgeridoo, learn more about the bizarre game of cricket or just like to hang out in the pub listening to live music.
Artwork from Judy Holding
One of the highlights of the weekend will be a theatre production specially written for the festival. "Ici" is a series of three monologues that explore the themes of place, home and belonging and will transport you into the daily life of ordinary Australians. The festival opens with a performance in English on Friday evening. This troupe of four accomplished actors from Melbourne will then dare to perform en français on Saturday evening and Sunday afternoon.
To find out why Australian Rules football is almost a religion for some, join some dedicated footy fans to watch the Grand Final game on Saturday morning on the big screen. Learn to appreciate the game's finer points over an authentic Aussie breakfast.
Photo courtesy of Rod Best
Saturday 29 September will be a day of creativity and culture, with workshops in theatre, poetry, fiction and didgeridoo playing. Australian writers, academics and poets will hold discussions throughout the day on such topics as the mix of modern and ancient cultures, bush ecology and the Australian identity. The Shed Café will serve Aussie tucker and wines, and each day there is the chance to listen to live music Aussie pub style.
Geneva-based film director Anna Reeves will be present at the screening of her film "Oyster Farmer", a comedy about love, community and freshly shucked oysters set on the picturesque Hawkesbury River. She will hold an open discussion about her film in English and French at 16h15 in the theatre of the Esplanade. Festival-goers will also have the rare opportunity to see a selection of short films that showcase the creativity of indigenous Australians, and there will be an exhibition of contemporary Australian art on display all weekend.
Sunday 30 September is the Family Fun Day. Music, storytelling, didgeridoo lessons, an Aussie barbecue and a clown show for all ages are just some of the attractions on the program. Enter the pavlova baking competition, enjoy some rowdy lunchtime blues and reggae Australian style with Tristan O'Meara (last seen in the region at this year's Montreux Jazz Festival), join our curator's guided tour of the art exhibition or listen to a lively discussion in the café.
Children will have their own special place in the Billabong Room where they can unleash their creativity with animal craft, Australian stories and unconventional history lessons. Gingins Cricket Club will be giving cricket lessons from 11am onwards for "kids" aged 6 to 60, with a giant family cricket match planned at 15h.
The programme is online in English and French (www.austfest.com). Places in some of the workshops are limited so please reserve your tickets in advance online to ensure a place. Australia Festival is on Facebook and Twitter.
Australia Festival - Festival d'Australie
28-30 September 2012
L'Esplanade du Lac
Divonne-les-Bains, France
www.austfest.com
This email address is being protected from spambots. You need JavaScript enabled to view it.