Whether you're traveling alone, as a couple or with your family, leave the stress and monotony of everyday life behind you and enjoy unforgettable moments on Switzerland's lakes and rivers. This carte journalière de navigation opens up a wide range of possibilities offered by the 15 major navigation companies throughout Switzerland.
I just bought my 6 day passes for CGN or participating navigation companies around Switzerland. Don't miss out! Fr. 21.95/ticket gives you a day pass to hop-on, hop-off boats on the day of your choice.
This really is a tremendous deal and the tickets are valid all season (through October 2023). Maximum 6 per person.
The tickets are available for purchase through 26 June 2023... don't delay! While supplies last.
NOTE: In comparison, if you buy a day pass through the CGN site you will pay Fr. 90.-/person or Fr. 45.- if you hold the demi-tarif pass. Some communes also offer day passes (but you must specify which day you would like); the prices are usually around Fr. 45.- as well. In any case, this Interdiscount deal for Fr. 21.95/ticket cannot be missed!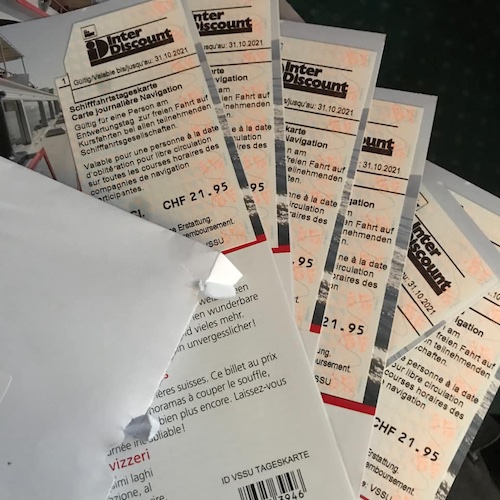 General information
Tickets are valid for one day on all timetable routes of the participating shipping companies*.
They cannot be used on other means of transport or with other shipping companies.
Please validate the day ticket at one of the ticket machines on the day of use, or enter the date by hand (with a pen) in the field provided.
The card is valid for 2nd class areas on the boats. For companies also offering 1st class, a change of class can be purchased directly on the boat if desired.
The transport regulations of the company used are binding.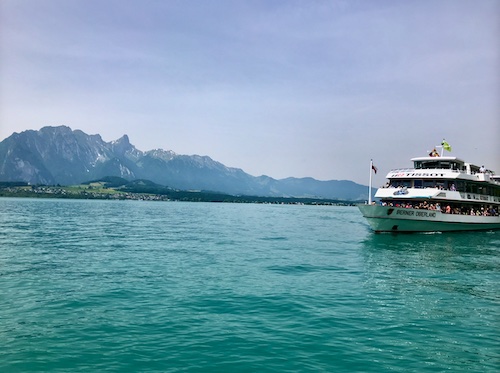 The day pass is valid until the end of the season of the chosen company, or until 31 October 2023 at the latest. After this date, unused cards cannot be refunded, exchanged or extended.
This day pass can be used on the same day with several shipping companies.
Children up to the age of 6 travel free when accompanied by an adult. Children aged 6 to 16 need a valid ticket (with the junior or child ticket, they travel free).
*Participating navigation companies
SGV – Lac des Quatre-Cantons
CGN – Lac Léman
BLS – Lac de Thoune et Lac de Brienz
ZSG – Lac de Zurich
SNL – Lac de Lugano
NLM – Lac Majeur Bassin suisse
URh – Lac Inférieur et Rhin
BSG – Lac de Bienne et l'Aar
SBS – Lac de Constance (Ce billet n'est pas valable sur le bac)
BPG – Rhin, Bâle-Rheinfelden
SGZ – Lacs de Zoug et d'Aegeri
SGH – Lac de Hallwil
SGG – Lac de Greifen
LNM – Lacs de Neuchâtel et de Morat
SW – Lac de Walenstadt
Interdiscount link to passes (can be ordered online and delivered or picked up in store).
#interdiscount #cgn #lakegeneva #lacleman
All photo credits: ©Lisa Cirieco