A new app has been developed by two Geneva entrepreneurs, which has the potential to revolutionise the whole process of buying gifts for kids.
Created by husband and wife team, Alberto and Cinzia, Wigigo Kids facilitates the giving and receiving of gifts for kids' birthdays, and enables parents to create wish lists with their children that eliminate the waste of unwanted, unsuitable or unnecessary gifts.
What is more, for every gift purchased via the app, 1 € is donated towards a good cause: so every gift bought for one child is also a gift donated to those in need!
Why the new app?
Asked where the idea for their new app came from, Alberto told knowitall.ch, "It has been estimated that every year 41 billion gifts are given globally, worth around 1.6 Tn$. Approximately 20% of these are unwanted, unneeded, unsuitable or simply disliked. So around 8Bn gifts (or around 320 Bn$) just go to waste!"
He continued, "With two young children of our own, my wife and I are only too aware of the huge amount of waste that exists when it comes to buying children's presents. We have seen family and friends spend hours choosing gifts for our kids that they really didn't need or want, and we, in turn, have spent hours buying presents for our children's friends, with no idea of what they really desired!"
What is Wigigo?
So, with the help of Swiss technology company, MobileThinking, Alberto and Cinzia created Wigigo Kids, an app that makes gifting for kids easy, right and good. Their aim was simple: to enable users to buy a gift for any child in the world without needing their address, using the child's wish list to buy something that they want and which, if appropriate, is the right size or colour. So, there is no more waste and no more duplication of gifts! The icing on the cake comes when you know that every gift purchased through the app represents a gift for someone else in need!
How does it work?
If it's your child birthday coming up, simply download the Wigigo Kids app from the Apple Store, open an account, and add your personal details including your address. With your child, start creating his birthday wish list, choosing from suggestions made by the app based on the most popular gifts, or browsing thousands of gift ideas from online stores like Amazon. Once you have created your wish list, you will be given a simple code that you can then share with family and friends.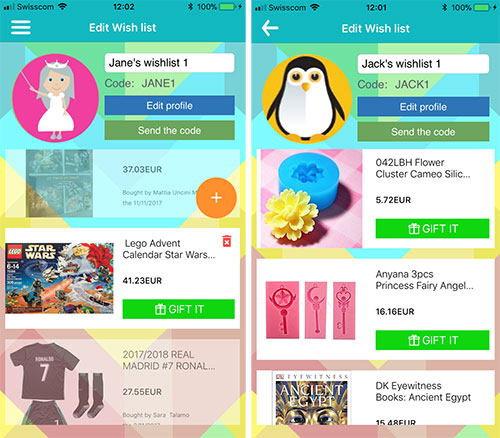 Equipped with the same app and unique gift code for your child, these people - be they grandparents living overseas or birthday party guests from the next town - can then purchase the gift for your child, choosing either to have it shipped directly to you (without even knowing your address), or shipped to themselves so that they can wrap it up and hand it to your child personally.
If they choose to have the present shipped directly to you, they can also print off a colourful gift card to hand over personally to your child in case the present hasn't arrived, or they simply want to have something to give on the day. This card includes a picture of the gift, space for a personal message, and a little note to indicate that Wigigo Kids has also given 1 € to a worthy cause.
Alberto commented, "In our experience, we have found that kids like to see parcels arriving at their house every other day, instead of lots of presents all arriving on the same day..... it creates an every day surprise! But, of course, people can choose to purchase and donate gifts as and when they choose."
Parents love it!
One client who has used the app recently told us, "It was super easy and fast, relieving me of spending time looking for a present. The present is directly delivered to the child versus having to make sure of having the present on time, wrapping it and bringing it to the party (also much more comfortable for the child's parents who do not need to carry 25 presents from the party home!)"
Another told us, "In the past few months I have used it 3-4 times to buy gifts for children for their birthday and it worked very well : In 1 minute I was able to buy the proper gift for children for whom it would have been very difficult and time consuming to find a nice gift for. I will surely use it for my daughter's upcoming birthday in March!"
Build a school in Africa
For the launch phase of their new app, Alberto and Cinzia have teamed up with the Boston-based NGO, Build a School in Africa, to help build a school in the village of Nolabougou, Africa. By donating 1 € for each gift purchased via their app, they have now raised $1300 towards their initial target of $20,000 - the sum required to finish building work on the school, which started last November. All contributions are tracked in real time, both on the app and on the Wigigo website. With 16 schools already constructed in Mali by Build a School in Africa, it is easy to see the huge potential of apps like Wigigo to provide much needed funding where it is needed.
Alberto concluded, "Our name and motto says it all...Wish Gift for Good - Spreading happiness...one gift at a time. Not only does Wigigo Kids make it easy to gift presents for our young ones and their friends, but it enables us to make a valuable contribution to others less fortunate than ourselves - and that's a very important message that our kids also need to learn when they are fortunate enough to receive their perfect gifts on their special day!"
Download the app
Currently only available for iOS devices, Wigigo Kids can be downloaded for free from the App Store here.
Wigigo Kids
www.wigigokids.com
This email address is being protected from spambots. You need JavaScript enabled to view it.
Click here to download the app.
Build a School in Africa
http://buildaschoolinafrica.org