Spend a day at Les Automnales!
Les Automnales offer you each year a program of animations and highlights suitable for anyone living in the area. Wine connaisseurs, pet lovers, those that want to know about the latest decorating trends, electronics, sports fans, children and parent sources, bargains and brocante, and all those that are curious about what this edition holds will not be disappointed.
10 to 19 November 2023
11h-20h from Monday to Thursday
10h-20h from Friday to Sunday (except Sunday, 19 November 2023 closing at 18h)
Restaurants / bars:
11h30-22h every day (except Sunday, 19 November 2023 closing at 18h)
This year, Les Automnales invite you, your family, and your friends to take a unique break from all the hustle and bustle of the daily grind.
What's on the program for this creative and inspiring event? Ten days punctuated by 17 parallel events, a host of entertainment, numerous restaurants and bars and hundreds of exhibitors!
---
Prices 2023 - Online registration required
Standard rate (over 18s): CHF 10 online (CHF 15 on site)
Reduced rate (AVS, AI, students and young people aged 14 and over): free online (CHF 5 on site)
Children under 14: free
Monday to Thursday: free admission for all
LES AUTOMNALES 2023
Palexpo Route François-Peyrot 30
1218 Le Grand-Saconnex
Website : https://automnales.ch/
Contact email: This email address is being protected from spambots. You need JavaScript enabled to view it.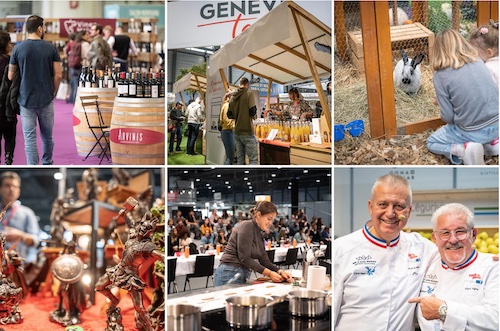 LES AUTOMNALES 2023
10-19 November 2023
— THE ART OF MOVEMENT EXHIBITION
10-12 November 2023
10-13 November 2023
— ARVINIS, THE SWISS WINE FAIR
11 November 2023
11-12 November 2023
15-19 November 2023
17-19 November 2023
— THE NATURAL THERAPIES EXHIBITION
— LA BROCANTE DE GENEVE ET LE SALON DU VINYL ET CD
18-19 November 2023