With Mother's Day coming up this weekend, you might be in the market to buy a unique piece of art for someone special! If not, maybe for yourself? We love Helen Shapiro's attention to detail and passion, not just for her artwork, but everything she does and what she stands for!
Helen is one busy lady! Not only does she still make her delicious jams and chutneys (see article we published about this a few years ago entitled: Which jam tickles your fancy: Pomegranate/Plum, Apricot/Ginger, or Wisteria Petals?), but she also makes beautiful wall art and jewelry!
Using resin along with her statement 3D cold porcelaine flowers that she crafts herself, Helen incorporate found bits in nature such as sticks and pine cones to add 3D effects.
If you are not familiar with resin techniques, remember that resin can take up to 24 hours to cure before a second layer is added. Helen usually layers between 4-10 times depending on the art. Prices for the wall art range from Fr. 80.- to Fr. 400.-. Commissions accepted.
Her cold porcelain jewelry is stunning. Each petal is handmade and assembled. She admits, "As the details are so fine, and the likeness to real flowers is important to me, I have not only had to invest in tiny tools but a good pair of glasses as well!" All the jewelry is one of a kind with earring pairs going for about Fr. 40.- to Fr. 100.-. Simple pieces that don't use the cold porcelaine go for the Fr. 20.- range mark.
Helen and her husband bought and are renovating an agro-ecological farm near Grenoble, France. Once this is finished, you will be able to enjoy nature through Helen's bed & breakfast, possibly a tea room, and craft space where you can partake in classes or rent out for your own purposes.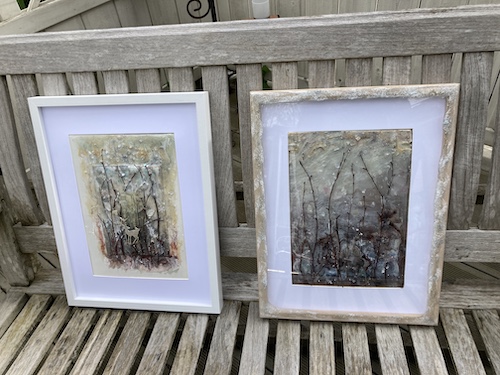 You can contact Helen for more information on purchasing jams, chutneys, wall art, jewelry, or commissions.
Helen Shapiro
Le Bon Goût
WhatsApp or SMS: 079 106 83 64