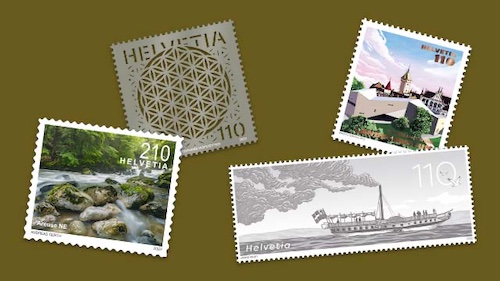 Fleur de vie
The laser cutting of this stamp allows the color of the envelope to show through. Make sure to get some brightly colored stationery when using this one representing the "Fleur de Vie". You will have the impression of fusing stamp and paper into a harmonious work of art!
200 ans de navigation à vapeur en Suisse
The William Tell was the first steamboat in Switzerland and made its first crossing on Lake Geneva on 18 June 1823, thus inaugurating the new era of machines. Although there are hardly any pictures of this boat, a special stamp depicts it 200 years later. The special stamp is 80 × 33 millimeter.
Versoix River
The Versoix is a river in France and in Switzerland. Its source starts in the commune of Divonne-les-Bains, crosses the communes of Grilly, Sauverny and Versonnex. Or in terms of cantons, it has its source in the canton of Gex and crosses the canton of Ferney-Voltaire before continuing in Switzerland. In the canton of Vaud, the Versoix flows along four communes of Terre Sainte: Bogis-Bossey, Chavannes-de-Bogis, Commugny, Chavannes-des-Bois. Then in the canton of Geneva, it crosses the commune of Collex-Bossy and the commune of Versoix, where it flows into Lake Geneva.
Supplementing older stamps
To provide anyone who still has older stamps (100, 130, 180), Swiss Post has issued three supplementary values. Their design is wonderfully simple. When the designer's task is to symbolize the values of 5, 10 and 20 centimes, what could be more appropriate than depicting the relevant Swiss coins? Just put one of these to supplement your older stamps to reach the correct amount.
To order your stamps, please go to the website. Most post offices don't carry special stamps in stock. To order online, free delivery to a Swiss address from Fr. 15.- of purchases.