The third book in the Grondère series by local author, Kathryn Adams, has just been published in time for Christmas! Make sure to buy a few copies as gifts and/or yourself. And make sure to take part in our competition to win a signed copy through the link at the bottom of the article.
The first book in the series, Death in Grondère, was followed by Summer Shadows in Grondère. Now you can get your hands on this hot-off-the-press Winter Wolves in Grondère! We asked Kathryn a few more questions about this latest endeavor and get first-hand news of a possible 4th one... stay tuned!
Kathryn, where do you get your inspiration?
Right here on my doorstep. The beauty of this country and the natural world are big sources of inspiration. Every time I look out the window or go for a hike or a ski, the ideas flood in and I just want to share what I'm seeing and feeling. But I also love people and I am constantly observing and making mental notes.
This is your 3rd book in the Grondère series. Do you have plans for any more?
I thought I would stop at three but I visited somewhere I didn't even know existed and inspiration struck. Mines of Mystery in Grondère is the working title.
The storyline
A body lies at the foot of one of the most formidable off-piste ski routes in Grondère, just as the cry of a wolf is heard for the first time in the Swiss resort. Accident or murder? The police are baffled as to who could be behind the death of one of Grondère's popular residents. At least, for once, Lucy and her friends have no links to this new mystery. Or do they? As the wolf begins to make its presence felt, it turns out not to be the only predator in town. Lucy and her friends are about to find themselves at the heart of a cruel intrigue whose roots are far-reaching — and dangerous.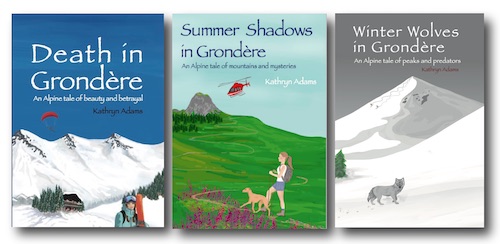 Where do you get the ideas for the characters?
Some of them are based on real people, and I have their permission, of course, some are an amalgam of many people I have met down the years and they all have a good chunk of me in them. But some characters create themselves and I don't actually seem to have much control over them, they go their own way and take me with them.
Do you have a favorite character?
Probably Blonnay. He is just one such example of one that got away from me. But I think my main reason is because my brother can't get enough of him and thinks Blonnay should have his own series. So when I write sections with Blonnay in them, in a way, I always have my brother in mind.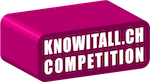 Kathryn is kindly offering one lucky knowitall.ch reader a copy of Winter Wolves in Grondère (a Fr. 10.- value). Just fill out this form and answer this question: How many books in the current Grondère series?
Only one entry per email is allowed. The book will only be delivered to a Swiss address. The competition closes at midnight on Thursday, 16 December 2021. The names of all those submitting correct answers will be placed into the digital hat and the winners' names drawn at random on Friday, 17 December 2021. The winners will be notified by email. No cash equivalent of prizes is permitted.
Winter Wolves in Grondère
by Kathryn Adams
ISBN 978-0-9957427-9-6
Winter Wolves in Grondère
Set in a fictional Swiss ski resort, Kathryn Adams' latest offering is the usual light, gentle read, full of skiing adventures. To be enjoyed on the balcony with a hot chocolate or by the fire with a glass of wine after a day on the slopes.
Available for Fr. 10.- from Payot Rive Gauche Geneva (in shop only, not online).
Also available from online bookshops YPDBooks.com. Also available on Kindle and other E-book formats.