We've been following Sian Sibley's brocante sales for years. If you don't know what "brocante" is, then the best way to describe it would be between a garage sale and a fine antique shop; treasures that were previously concealed in attics and basements have been carefully found and put on glorious display. There is usually something for everyone in Sian's sales. Her prices are reasonable and she only has the best quality items. No dusty dirty or broken articles here... just amazing useful or decorative vintage items that she has sourced for you.
An upcoming sidewalk sale in Carouge, GE, peaked our interest to write an article and Sian has kindly offered up 2 vouchers for a competition! Read on to find out more about Broccoli Brocante.
Why did you start? What has been the inspiration?
Ever since childhood I have always been fascinated by old things. I think it started at the age of 8 helping to clear out the cottage of a great aunt in Snowdonia (Wales) and coming across things like a crinoline, a stoneware water bottle and postcards of the 1916 Easter Rising in Ireland. Simple things from another era; I was hooked.
I went on in my mid-twenties to become a qualified social history curator in Wiltshire (England) for the County Council and then at Devises Museum. After my three sons were born, this career was soon abandoned. When my family moved to nearby Gex in 2001, I discovered a whole new world of vide greniers and marché aux puces and took delight in furnishing our idyllic French farmhouse. That then morphed into a hobby business where private sales at the house took off by word-of-mouth. I continued in earnest when we moved to Prangins, Switzerland.
Last year, I finished working at World Radio Switzerland, and decided to make selling Brocante my full-time business.
What is in the choice of name: Broccoli Brocante?
I have a passion and an eye for Scandinavian ceramics and glass which since the rise of the Mid Century Modern concept is now all the rage. Initially I was thinking along the lines of making the name reflect this – ScandiLove – Scandulust – but my now grown-up children told me this sounded too much like a porn site! Whilst on a walk with them in lockdown last year we had a brainstorming and finally arrived at Broccoli Brocante. Partly because as Brits we love a bit of alliteration and also I thought. "Well, if Apple can do it, then so can I."
Designs by Marianne Westmann for Rorstrand of Sweden
What is the biggest obstacle you have had to overcome?
Feeling my way through new technologies is something I have wrestled with. I was never one for social media or even answering my phone. Friends would joke that sending me a message by pigeon would be a better way of getting my attention! So the learning curve has been steep and one that I am still struggling with. So far I've made a commitment to answer my phone, check my messages, sell through Facebook Marketplace, and most importantly, create an Instagram account.
Instagram has revolutionised my business as I am sure it has for many small business owners, especially in the last year. I post at least once every day without fail and try to bring a little bit of history or anecdote to each item, which seems to go down well with my followers.
Where do you see this Broccoli Brocante going? What are your plans for the future?
I can only see it getting bigger and better (I hope). I think the new platforms are reassuring in this way – the more followers, the greater interest you have in what you are doing, the more customers, etc. I shall improve my online offering. There are always more platforms that I know I could be on such as Etsy or selling on Ricardo.ch, but I'm moving towards these at my own pace. I have already become like a teenager: with my phone on all evening, watching TV on the sofa with one eye on my pinging phone – it's driving my husband mad and it's something I never thought I would be guilty of!
What is your favorite item you have for sale at the moment and why?
I had to think about this but my favorite item is something that is a one-off and which has all the qualities of an antique object that I love – made of wood, signs of wear, and a whole social history story behind it. It is a presentation lawn grass bowling ball (above) made to J. McFadden of the Woodvale Bowling Club in 1929. It is heavy as it is made of lignum vitae wood, and it has the inscription carved into bone. I love the care someone has gone to with the decoration, the patina and the fact that it is so tactile, you just want to hold it or take it to bed with you — in my case!
Where can buyers see your items and keep up with new ones?
As well as selling via Instagram I have two rooms in my house which act as my shop. Customers come by appointment to a have a browse and invariably go away with something. What I am finding now is that people are much more willing to buy a gift for someone from the brocante, than they did a few years ago - the stigma of giving secondhand has gone. Brocante is fitting nicely into the environmental mantra of trying to avoid buying new and reusing instead. And why not? Vintage things often have a quality or workmanship which can be missing in today's production values.
Lastly, I continue to sell face-to-face with my sales in the Lake Geneva region. Sometimes at my house in Prangins, sometimes at cafés such as Blackbird House in Rolle, Café Ex Machina in Nyon, outside shops such as Jim's British Market in Gland, or this Saturday at Ploum in Carouge. You can't beat handling objects for real and having a good chat about it.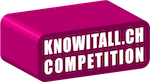 Thanks to Sian for kindly offering 2 lucky knowitall.ch readers a Fr. 50.- voucher to be used in her upcoming sales or privately. Just fill out this form and answer this question: What is the name of Sian's Brocante?
Voucher is valid through 30 June 2021. The voucher is transmissible but cannot be exchanged for cash. Purchases under Fr. 50.- will not receive cash back; purchases over will be supplemented by the buyer.
Only one entry per email is allowed. The competition closes at midnight on Wednesday, 28 April 2021. The names of all those submitting correct answers will be placed into the digital hat and the winner's name drawn at random on Friday, 30 April 2021. The winner will be notified by email and his/her first name will be added to this article after the competition closes.
You can follow Sian at Broccoli Brocante on Instagram. Or contact her at +41 79 588 33 97 to set up an appointment.
Look out for upcoming sales:
Saturday, 1 May 2021
10h-17h
Sidewalk sale outside PLOUM (interior design shop)
78, rue Ancienne
1227 Carouge
On sale is an eclectic mix of ceramics, glass, pictures, mirrors, kitchenalia, antique and vintage, Scandinavian, British, Swiss and French finds.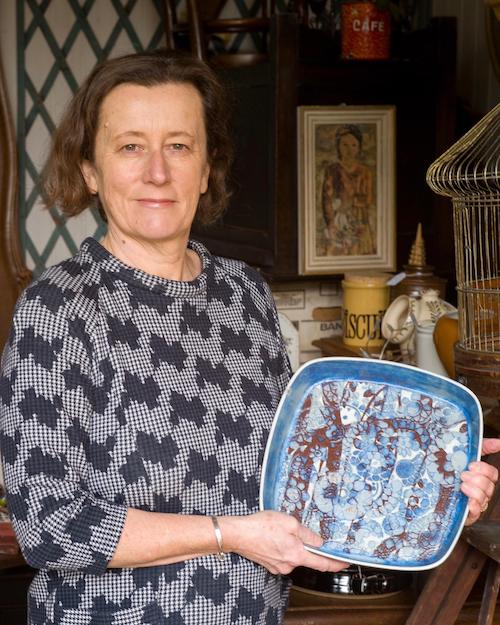 Sian proudly showing off one of her favorite plates - photo by Catherine Lewis
COMPETITION WINNER'S FIRST NAMES: CAROL AND JANET