Bergli books have been busy again with another publication. This time the subject covers 50 Swiss women! We asked one of the 5 authors, Katie Hayoz, to tell us more.
What has been the inspiration?
The idea for writing a book of short biographies on amazing Swiss women came from one of the authors on the project, Laurie Theurer. When she was writing her book, Swisstory (on Swiss history), she included a short chapter devoted to Swiss women. Right away she knew she wanted to explore that subject further. However, a book like this is a huge undertaking – the research and interviews and writing take a great deal of time and devotion.
Bergli Books wanted to publish for the 50th anniversary of women getting the vote in Switzerland (February 2021), meaning Laurie wouldn't have enough time to work on it by herself. So, she looked among her female writer friends who were just as inspired by the project as she was.
We are five writers – Laurie Theurer, Katie Hayoz, Anita Lehmann, Alnaaze Nathoo, Barbara Nigg – and one illustrator, Mireille Lachausse. We all are doing this because we believe women's voices and stories need to be heard and that they are worth hearing. We are Swiss-born, Swiss-based, or Swiss by "adoption." So we know that "Swiss" does not mean one particular thing. Switzerland and Swiss women are quite diverse, and we hope to show that in the book.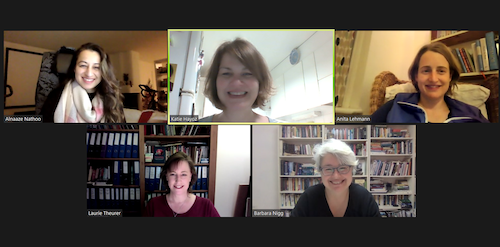 Zoom: Alnaaze Nathoo, Katie Hayoz, Anita Lehmann, Laurie Theurer, Barbara Nigg
What is the biggest obstacle you have had to overcome?
Coming into the project, I thought the biggest obstacle would be the collaboration. I mean FIVE women writing a book? That sounds messy. But it really wasn't! In fact, it was inspirational. Sounds sappy, but it's true. We worked as a team, sharing feedback and ideas, as well as critiques and edits and a few rare bottles of wine (for the short time Covid allowed us to see each other). We wrote this book together, in three months, with 99% of our communication happening over Zoom (see photo above) and WhatsApp. And we didn't all know each other at the start. I have to say, I'm really proud of us as a team.
So, for me, the real biggest obstacle was to make sure that our stories truly did these amazing women justice. We took reams of research and interviews and had to distill them down to a one-page biography that was easily readable by kids. Hard to do when most of these ladies really deserve hundreds of pages.
Where do you see this book going? A series?
Ah. Actually this was another difficulty – taking the hundreds of women we wanted to talk about and getting the list down to only fifty. Sometimes it was easy, as the women asked didn't want to be interviewed or there just wasn't enough research on their lives. But, overall, it was tough to choose only fifty. And that makes us dream of writing more books about more amazing Swiss women. We don't know if that will happen. However, we want this book to inspire kids and open their eyes to the amazing women of this amazing country.
What is your favorite quote and why?
From the book, it is probably this one: "Nothing fascinates me as much as people who really lived. Because nothing is as fantastical as reality." Eveline Hasler – author
I, too, find that real people often accomplish even more than we can even imagine. The women in the book are proof of that.
50 Swiss Women for 50 Years of Voting Rights
Spies, activists, entrepreneurs, entertainers, politicians, athletes… Swiss women are daring, ingenious, and brave. The book 50 Amazing Swiss Women celebrates diverse accomplish-ments of 50 extraordinary women and inspires kids in Switzerland to make their dreams come true.
Swiss women have long shown that they can do anything. But for the first time, fifty years after Swiss women got the right to vote, children will meet fifty of these extraordinary women in one beautifully-illustrated book. Five authors have written entertaining one-page biographies of each woman and, with fifty inspiring portraits, Swiss illustrator Mireille Lachausse brings to life centuries of Swiss women's many struggles and great accomplishments.
The book includes both historical and contemporary women: pioneers of Swiss feminism such as Emilie Gourd and Marthe Gosteli; trailblazers Ruth Dreifuss and Tilo Frey; iconoclasts like Annemarie Schwarzenbach and Carla del Ponte; but also lesser known contemporary role models such as Paralympic athlete Abassia Rahmani and environmental activist Marie-Claire Graf. By including women from six different centuries, dozens of vocations, many different backgrounds and every part of Switzerland, the book proves to kids that in Switzerland it isn't where you started, but who you are inside that counts.
CH2021
Supported by CH2021, the umbrella organization of the official celebration, the book has just been published in English, German, and French on 7.2.21, the 50th anniversary of Swiss women gaining voting rights at the national level. Further activities include distribution of free educational resources for schools and events planned for summer and autumn 2021.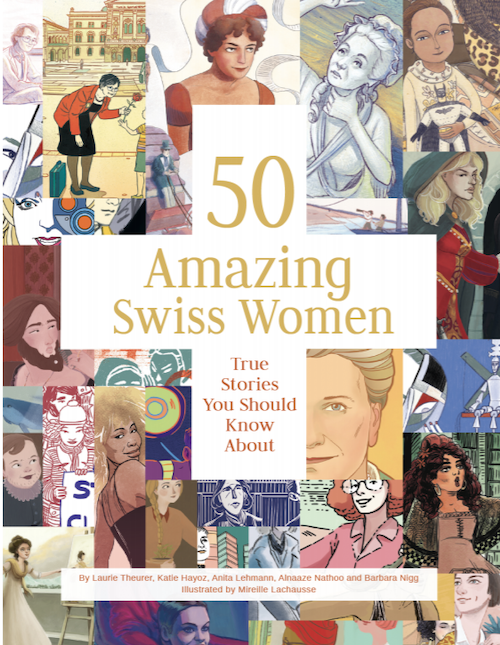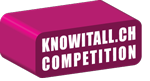 Bergli books have kindly offered to give a copy of their book, 50 Amazing Swiss Women in English, to one lucky knowitall.ch reader, a Fr. 29.90 value. Just fill in this form and let us know: How many women wrote this book?
Only one entry per email is allowed. The competition closes at midnight on Thursday, 11 February 2021. The names of all those submitting correct answers will be placed into the digital hat and the winner's name drawn at random on Friday, 12 February 2021. The winner will be notified by email and his/her name will be added to this article after the competition closes. Only valid for delivery to a Swiss address.
50 Amazing Swiss Women: True Stories You Should Know About
Co-authored by: Laurie Theurer, Katie Hayoz, Anita Lehmann, Alnaaze Nathoo, and Barbara Nigg
Bergli Books, Basel
February 2021
112 pages
55 illustrations
Hardcover
197 x 252mm
Fr. 29.90/€ 29.90
COMPETITION WINNER: J A C Q U E L I N E S I M S