The new stamps from the Swiss Post Office were released a few weeks ago. It is so exciting to see what they have come up with. My favorite ones this time are the Ceneri 2020: the set of 10 stamps is actually 5 sets. They can be used separately as 10 x Fr. 1.- or used as a row of Fr. 2.- as the image is panoramic and the middle stamp is of no monetary value. They would brighten up an invitation or holiday card envelope.
The other one is oversized and I wasn't expecting that when I ordered! It is celebrating the 900 years of Engelberg Monastery measuring 10.5 x 7cm! You won't be able to use this on a regular envelope as it would cover up the address. Think of this one if you are sending a package or giant birthday card.
As the Geneva Airport is celebrating its 100th anniversay this year, a commemorative stamp was released. It has a vintage vibe that I really like, so this will be my stamp of choice for awhile (and I can't resist a "jet d'eau" illustration either).
We wrote about the beer-themed ones already at this link; great to use for a party invitation! They still have them on order so I got a new sheet as I can't resist these ones. Unfortunately the fondue one was no longer available... it is always a good idea to get your sheet when you see it as the stamps never get outdated. See the article at this link to see what I'm talking about. I ended up framing the fondue sheet as artwork!
Personally, the new set of 4 different ones that have "Special events" motifs: congratulations on births and weddings, or for expressing condolences and thanks, are not my cup of tea. But maybe you think they will fit perfectly for the occasion.
When ordering, make sure you choose the ones that say: non oblitéré. Otherwise, you will receive stamps that have the postmark on the day of issue. Some stamps are offered as "autocollant" for peel-off stickers; or "gommé" for the kind you need to moisten.
Remember: it doesn't cost anything to order stamps via the Swiss website as you pay the face value and postage is free!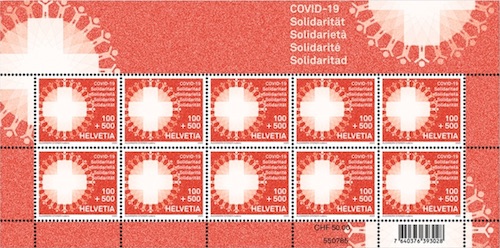 Covid-19 stamps with donation
The "COVID-19 Solidarity" stamp allows Swiss Post to offer you Fr. 10.- of stamps with your donation of Fr. 50.-. Proceeds will go to Swiss Solidarity and the Swiss Red Cross.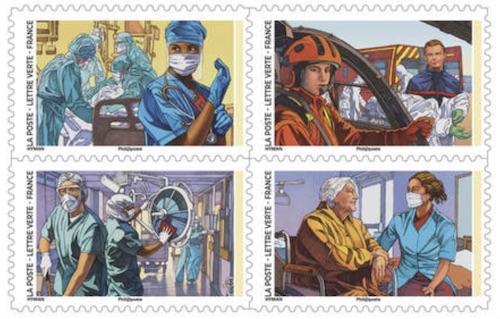 French stamps
I've also put the link below to the French post office stamps as they have an amazing annual assortment as well. However they will send you the stamps (to a French address) for free for purchases over €25.-. The ones that caught my eye were the "Tous engagés" (above) of front line workers wearing masks (value of one €0.97); The package comes with 12 different stamps for €11.64.
If you are sending out a lot of letters weighing no more than 100g, the cost will be measurably less if you can cross over the border to send through the French postal system.
Swiss post office general information:
www.post.ch/en
Swiss post office shopping for stamps and other items:
www.postshop.ch/en/Home
Calculation of price of a stamp for a letter
From CH > Int'l/USA up to 20g: Fr. 2.-
From CH > Int'l/USA up to 50g: Fr. 3.80
From CH > Int'l/USA up to 100g: Fr. 5.-
From CH > EU/UK up to 20g: Fr. 1.40
From CH > EU/UK up to 50g: Fr. 2.20
From CH > EU/UK up to 100g: Fr. 2.90
French post office general information:
www.laposte.fr
French post office special stamps:
www.laposte.fr/beaux-timbres
From France > Int'l up to 20g: €1.37
From France > Int'l up to 100g: €2.74
From France > Int'l up to 200g: €6.85