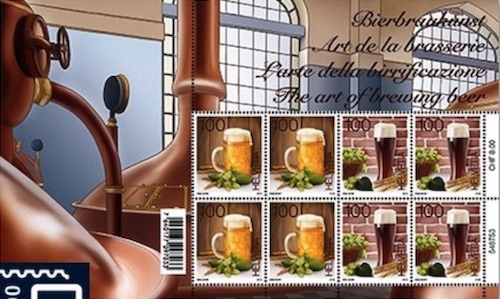 The new stamps from the Swiss Post Office were released a few weeks ago. It is so exciting to see what they have come up with. We love the new beer ones shown above. What fun it would be to use for a party invitation! It doesn't cost anything to order stamps via the website as you pay the face value and postage is free!
When ordering, make sure you choose the ones that say: non oblitéré. Otherwise, you will receive stamps that have the postmark on the day of issue. Some stamps are offered as "autocollant" for peel-off stickers; or "gommé" for the kind you need to moisten.
Would you like to learn more about the art of brewing beer? Then take part in the Post Office's competition to possibly win 2 tickets for a guided beer tour in Bern on 20 November 2019 or a sheet of "The art of brewing" stamps worth Fr. 8.-! Deadline is 31 October 2019 so hurry and click on this direct link to the entry page in English.
Here is another new set that is beautiful and could be used for a wedding invitation.
The ones of Swiss costumes has an old-world charm and would be suitable for someone who enjoys sewing or fashion! Not very modern but would certainly catch their eye.
The recent moon landing has inspired these retro stamps with a black and white image of folks watching the same thing 50 years earlier!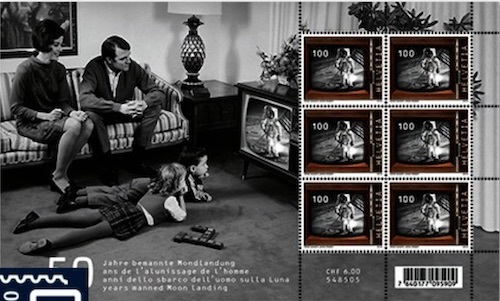 We did an article earlier this year about the fondue stamps, and they are still available via the website, so get yours now. Fr. 12.- for 12 stamps and the recipe as well. Honestly, it is hard to resist.
There are tons of other choices showcasing animals, Swiss buildings, Swiss transportation, Swiss artists, and more. Think about ordering some for your next event or for the end-of-the-year season's greetings now! Or maybe you've attended the Fête des Vignerons 2019 and want to get the ones designed for that!
Note: Any stamps with "Pro Patria" will have an added fee that is given to the foundation that preserves Swiss cultural heritage. Pro Patria also provides the brooch for the 1st of August (Swiss National Day) since 1923. See the video at this link.
To order your stamps, please go to the website. Most post offices don't carry special stamps in stock.
https://www.postshop.ch/shop/fr/philatelie/feuilles-de-timbres/c/sheet