A new series of workshops has been launched in Geneva, which combines the use of modern technology with traditional DIY techniques to create interesting, creative and useful objects for everyday use.
Created by the association, Onl'Fait, the 2-to 3-hour long workshops provide a fun, educational Fabrication Laboratory (FabLab) environment where anybody – children, adults, artists, and the simply curious – can learn, make, share, fix, create, teach, fail, tinker and reflect on a sustainable approach to science and technology.
Asked why they decided to set up the new workshops in Geneva, Cristina Olivotto, Secretary of the association, told knowitall.ch, "Onl'Fait opened in Geneva towards the end of last year to answer a growing interest towards the maker movement - a technology-based extension of the traditional DIY culture."
She continued, "Our workshops represent just one of the many new services that we plan to offer to the public over the coming months. Our FabLab aims to provide an affordable place where people can come and share the technical, technological and human resources that we have made available – be they machines, tools, software, processes, knowledge or mentors – to conceive, create or repair all manner of objects. As our network of members grows, so will the range of services that we can share and offer to others."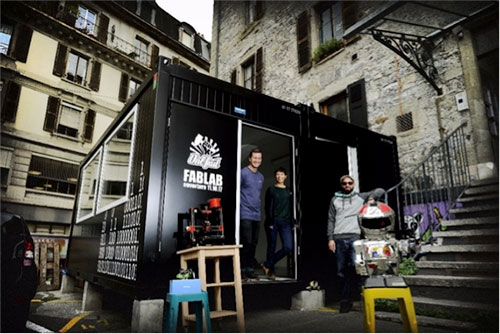 Photo credit: Paul Ronga
Onl'Fait is the first pedagogical FabLab of its kind in Geneva and the only FabLab in Switzerland to be open daily from Tuesday to Saturday, from 10h to 19h (Saturday to 17h). Conveniently located at the Impact Hub co-working center next to Cornavin Station (see our article here), Onl'Fait enables children and adults to learn all about the very latest techniques used in laser cutting, 3D printing, electronics, coding, woodworking and robotics!
Onl'Fait currently has 5 machines available for workshops, training, or individual use by members. These include a laser cutter, a 3D printer, a CNC digital milling machine, an A3 plotter, and a thermoformer. For an annual subscription of just Fr. 150.- per year, members can book time on these machines at a favorable rate – and receive a free introductory training session on one of the machines when they first join the organization. Costs to use the machines range from Fr. 50.- for a 2-hour session up to Fr. 200.- for 20 hours use, i.e. the more hours you buy the lower the hourly rate.
To kickstart the workshop side of their business, Onl'Fait has created an exciting course schedule which makes full use of the machines at their disposal. Their first workshop last November - creating a solar-powered torch - was a huge success with attendees. This is what one participant had to say to us about their experience,
"Our 11 year old took part in a workshop to build a solar torch. He was very excited by the idea of designing a logo that could be engraved on the lamp and was thrilled to watch his project take place in front of his eyes by laser cutting. They also welded the electronic component together and it was wonderful to see it all come together at the end. The team at "onl'fait" was very helpful and friendly. Our kids loved the workshop and we were very impressed by the set up and the opportunities available... I can only recommend the workshops for a great family activity."
Active workshop schedule
To give you an idea of the kind of workshops that are planned for the future, this is the schedule for February and March:
17 February, 14h to 16h
Chacun-e a SON nom / Everyone has their name
Build a unique necklace to represent the soundwave of your name, using Plexiglas, leather, wood or felt. Material and coffee included. Bring your own computer (recommended).
Age 10+
Price Fr. 30.- for members, Fr. 40.- for non-members
https://onlfait.ch/fablab/event/1783/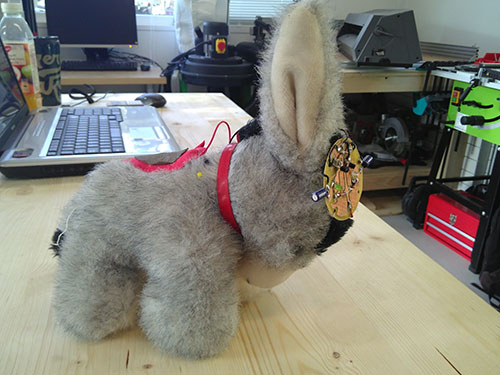 21 February, 14h to 17h
Hack ton doudou / Hack your cuddly toy
With a bit of electronics and some soldering, transform your cuddly toy into an animated voodoo doll! Material and chocolate included. Workshop created in association with SGMK.
Age 10+
Price Fr. 50.- for members, Fr. 60.- for non-members
https://onlfait.ch/fablab/event/1766/
21 and 28 February, 14h to 16h
Menuiserie 2.0 / Woodwork 2.0
Build your own wooden clock with the support of Knock on Wood, and then decorate it a week later using laser cutting at FabLab Onl'Fait. Material and chocolate included. Bring your own computer (recommended).
Day 1: Wednesday 21 February 14h – 16h Seedspace, Chemin de la Chevillarde 11, 1224 Genève
Day 2: Wednesday 28 February 14h – 16h FabLab Onl'Fait, Rue Fendt 1, 1201 Genève
Age 9+
Price Fr. 130.- for members, Fr. 140.- for non-members
https://onlfait.ch/fablab/event/1809/
3 March, 14h to 16h
Chargeur DIY pour téléphone mobile / DIY charger for mobile telephone
If you're fed up with continually having to buy phone chargers that you keep leaving at your friends, then learn how to build your own "Open Source Minty Boost" charger!
Material and coffee included. Bring your own computer (recommended).
Age 10+
Price Fr. 50.- for members, Fr. 60.- for non-members
https://onlfait.ch/fablab/event/chargeur-diy-pour-telephone-mobile/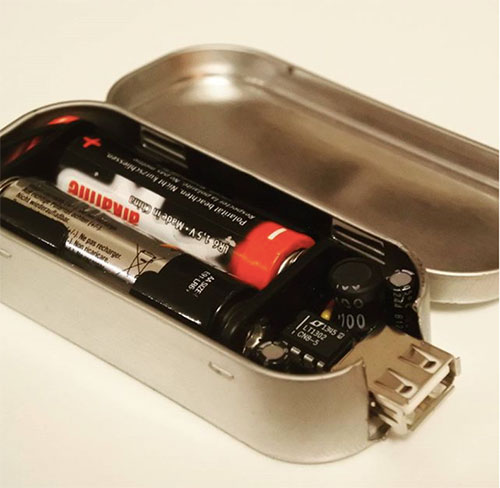 7 March, 14h to 16h
Couture électronique / Electronic sewing
Learn laser cutting techniques, electronics and programming skills to make your own flashing bracelet.
Material and chocolate included. Bring your own computer (recommended).
Age 10+
Price Fr. 30.- for members, Fr. 40.- for non-members
https://onlfait.ch/fablab/event/couture-electronique/
17 March, 13h to 16h
Bougie végétale et photophore / Vegetal candle and light emitter
Make a natural candle out of vegetal wax, and use a laser cutter to create your own light-emitting candle holder. Workshop created in association with DIY Geneva.
Material and coffee included. Bring your own computer (recommended).
Age 12+
Price Fr. 40.- for members, Fr. 50.- for non-members
https://onlfait.ch/fablab/event/1799/
21 March, 14h to 17h
Décorer avec les tampons / Decorate with stamps
Make your own stamps using rubber, wood, ink, embossing powder and laser cutting.
Material and chocolate included. Bring your own computer (recommended).
Age 10+
Price Fr. 50.- for members, Fr. 60.- for non-members
https://onlfait.ch/fablab/event/decorer-avec-les-tampons/
Whilst the workshops are held in French, the course leaders are used to helping out in English, when needed. You can see new and upcoming courses as they are posted on the Onl'Fait website at this link: https://onlfait.ch/fablab/events/
FabLab Onl'Fait
Rue Fendt,1
Geneva 1201
This email address is being protected from spambots. You need JavaScript enabled to view it.
https://onlfait.ch