Telepherique du saleve rooftop ©STS
The Téléphérique du Salève reopens this Tuesday, 12 September 2023! After the article we wrote 2 years ago at this link, the work is finally finished on the top station area. Further work is still ongoing concerning the restaurant, bistro, and playground which are scheduled to open in April 2024.
OUTSTANDING VISTAS
The Salève cable car brings visitors a wide variety of vista points to admire the Alps and Jura, Lac Léman, and Geneva itself.
Parapente 3 telepherique du saleve ©STS
THE ROOFTOP
The rooftop has some of the most iconic views in the region. Here you can soak up views of Geneva and Lake Geneva in a Natura 2000 site. Its 360° views mean visitors can see as far as Mont Blanc and the Jura Mountains. The experience continues with information boards detailing the landscape. You can download their mobile app for free so you can quench your thirst for knowledge.
ANDRE REBUFFEL PLATEFORM
An exceptional view of the Voiron massif. This area used to be inaccessible to the public. It has now been completely refurbished to allow public access, just as it was in 1932. Positioned as close as possible to the technical installations, this plateform pays tribute to André Rebuffel, the cable car engineer who designed the first technical installation for the Téléphérique du Salève.
THE LÉMAN ESPLANADE
The Lake Geneva esplanade is a cable car hotspot. It has fantastic views of the natural surroundings, Geneva and as far as Lausanne.
Téléphérique du Salève - Escalade La Grande Varappe ©Hemelka
LA GRANDE VARAPPE
This 20m high wall is also an impressive 11m wide. It's suitable for novices and experts alike, so everyone can climb to the top and partake in incredible views of Lac Léman and the city of Geneva. Sessions take place as a group. A monitor is there to help you during your experience. Climbing is suitable for all abilities. The climbing wall is designed for novices and experts alike to enjoy with 900 holds and 6 routes. The monitor will suggest the right exercises for your ability and requirements.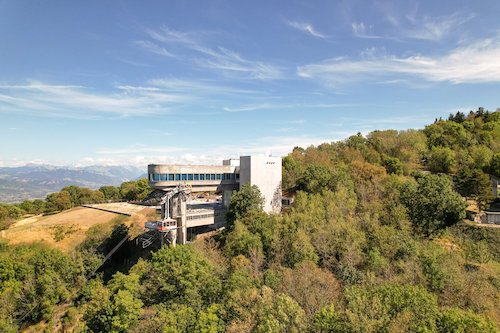 Téléphérique du Salève site ©Hemelka
Professional mountain guides founded the bureau to provide a range of sports and activities around Salève within one structure: themed hiking, skiing, climbing, mountain biking, via ferrata etc.
The outdoor event lasts 1 hour and takes place next to the upper station. Make your way to the bottom of the wall at least 5 minutes before your session starts.
The monitor will meet you to briefly introduce the activity, safety rules and give you a demonstration before it's time for you to have a go.
The Bureau de la Montagne du Salève monitor will adapt the activity to suit your ability and requirements, whether you want to experience a real challenge, team spirit or just climb the wall at your own pace.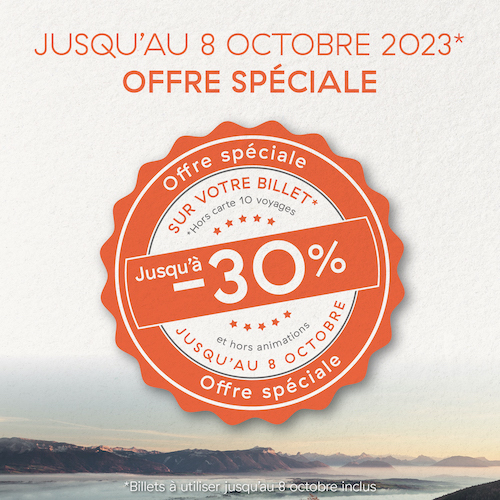 GIFT SHOP
The gift shop at the upper station sells a selection of products hand-picked by the cable car team so you can visit or revisit the Salève cable car's history.
Téléphérique du Salève
https://www.telepherique-du-saleve.com/infos-pratiques/horaires-acces/
OPENING TIMES
The Téléphérique du Salève opens on September 12, 2023
Prices at this link.
Summer season
12 September through 5 November 2023: Monday to Sunday from 9h-19h
NOTE: —Late night Saturday in September at 21h
— "La Nuit est Belle" on 22 September 2023: 23h closing time
Winter season
1 December through 31 March 2024: Wednesday, Friday, Saturday, Sunday from 8h-17h
Note: Téléphérique du Salève annual closing dates: 6-23 November 2023
The stations and rooftop close 30 minutes before cable car closing time.