Enter our competition to win a double ticket for one of the performances!
Betrayal is about illusory love, misplaced trust and false friendships. We caught up with Gary Bird, director for GEDS (Geneva English Drama Society) to tell us more about the play. He has offered 2 pairs of seats for one of the performances of Betrayal; read below.
The storyline of Betrayal
Emma is married to Robert but has a long-standing affair with his best friend, Jerry. On the surface, all appears normal between the families, but what simmers underneath is another story... Told through reverse chronology, permutations of betrayal upon betrayal unfold between all three of the characters until none of them know what is real anymore.
What is the theme of Betrayal?
Gary explains, "It's right there in the title: Betrayal. But if there is one thing we know about playwrite Harold Pinter is that he is never obvious, and betrayal is merely one theme in this seminal play about the eternal love triangle.
"This play explores the effects of betrayal, friendship, love, lust, trust, family, guilt, unconscious desires, community, identity, honesty, loss. And at the root of all these lies what I believe is the true essence of the play: alienation. The characters in the play are not only alienated from their friends and family, spouses and community, but also from themselves. "Who am I?" "Where do I belong?" Their alienation manifests in a profound sense of loss that the characters themselves do not wholly understand. Every precious shared memory between friends Robert and Jerry, between the two families, is tainted by a sense of loss that such warm interaction can never be replicated – given what has passed between them. This sense of loss inherent throughout the play resonates outward as ripples from a stone thrown into a calm pool of water.
"The characters' increasing sense of loss of reality is another manifestation of alienation. Robert tells Jerry, "You really didn't know much about anything." And yet, throughout the play, Jerry states that no one knows what is going on except he and Emma. That they have the ultimate knowledge. When he discovers that that was not the case, that it is he, in fact, who knows less than the others, his sense of reality, his sense of self, is shaken, shattered. He is living in a different world than which he conceived. What is he to believe in now?
"Knowledge in the world of "Betrayal" – indeed, in most of Pinter's work – is power. And this Pinterian power is constantly in play: hinted at, implied, suggested, insinuated – rarely outwardly expressed. Pinter's characters are too… sophisticated to be direct – with others or with themselves. Pinter's world of meaning is the unexpressed. The internal world of secret signs, allusion, understatement, subtext – i.e., the unconscious. Pauses constitute the true drama of Pinter: silent, resonant and emotionally generative."
Gary explains further, "What goes unsaid, the disturbing realities of our unconscious desires, is repressed, masked by Pinterian pauses and silences – and interrupted by banalities and non-sequiturs designed to not upset the social niceties of our world. Nothing is what it seems."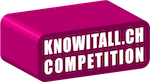 Enter our competition to win a double ticket!
Continuing its long-standing relationship with Know-it-all passport, GEDS have kindly offered 2 of our readers the chance to win a double ticket for any performance of the show (value Fr. 70.-/pair of tickets).
To enter the competition, just fill in this form and answer this multiple choice question: In what order is the story of Betrayal told?
Only one entry per person and per email is allowed. The competition closes at midnight on Saturday, 4 March 2023. The names of all those submitting correct answers will be placed into the digital hat and the winner's name drawn at random by Sunday, 5 March 2022. No cash equivalent of prizes is permitted. The winner will be notified by email.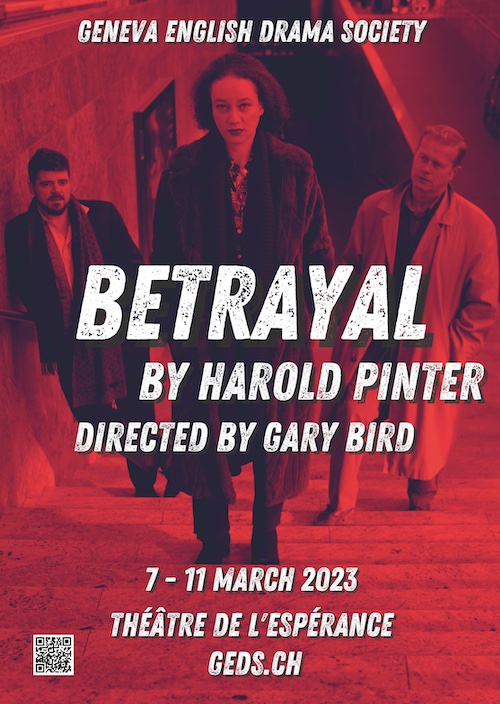 BETRAYAL
By Harold Pinter
https://www.geds.ch/Tickets/
Directed By Gary Bird
Starring: Alannah Burns, Julian Finn, Angus Macdonald, Will Fihn Ramsay
Tuesday, 7 March at 20h
Wednesday, 8 March at 20h
Thursday, 9 March 20h
Friday, 10 March 20h
Saturday, 11 March 19h
Théâtre de l'Espérance
Rue de la Chapelle 8
1207 Genève