Monte San Salvatore-1 © Milo Zanecchia 2017
It is possible that your next summer vacation will be spent closer to home than you previously thought! We've decided to take a virtual trip around Switzerland to help you get some ideas before you book your next hotel or Airbnb. The first in our series is the Lugano region.
Alessandra De Stefano, Media Relations Manager from Ente Turistico del Luganese, sent us an enthusiastic letter detailing many tempting activities and ideas for your next trip.
66 Lugano Bike-4 © Davide Adamoli 2017
Mountain Bike trails
A video collaboration between Nino Schurter, Lugano Region and Olympic and multiple World Champion, and the Ticino cyclist Filippo Colombo, U23 Vice World Champion 2019, showcasing the Lugano Region's wonderful range of trails.
These trails wind their way past typical Ticino villages, mountain huts and traditional restaurants where at the end of the day there's nothing better than stopping off to enjoy local food or sipping Ticino's top-notch wine at one of the many wineries. You can imagine having a quick dip in the lake, an aperitivo by the lakeshore, or a gelato whilst strolling along picturesque lanes. See the exhilarating video at this link.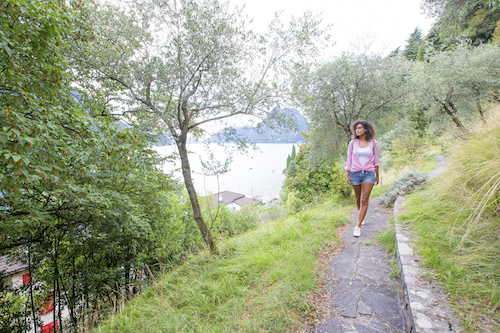 Sentiero dell'olivo-1 © Davide Adamoli 2018
Hiking Trails
If you love hiking, then take your pick between The Olive Grove Trail, The Historical Sonvico Nature Trail, or Artinbosco
THE OLIVE GROVE TRAIL: The Path winds along the countryside between Castagnola and Gandria and crosses hillsides of ancient olive trees where just recently fruiting olive trees have been reintroduced. You can reach the path either from Castagnola (close to the old Municipal, or from Gandria (start from the parking area at the canton's street above the village). The path is described beginning in Gandria and is identified by the olive logo. There are 18 panels offering descriptions of the olive tree's history, its botany, its cultivation and its products as well (the olive fruit ant olive oil).
THE HISTORICAL SONVICO NATURE TRAIL: The comparison between past and present. This theme trail was conceived with the intention of allowing people to take advantage and enjoy all these different features, following an easy itinerary. With this trail we wish to enhance both nature's elements and the local peculiarities, besides stimulating one to stop and consider how delicate and complex the relationship between living organisms is and the role that each of us plays in modifying the fragile environmental balance that surrounds us.
ARTINBOSCO: A unique itinerary through art and nature among trees and paths. You will find amazing art suspended or laid on the ground. The itinerary, accessible to all, winds in the shadow of suggestive beech and chestnut woods and offers surprises and emotions to adults and children.
Vetta Monte Lema © Nicola Demaldi

Many other suggested hiking paths area:
Too many guided tours to list all in detail but click on the ones here that take your fancy: