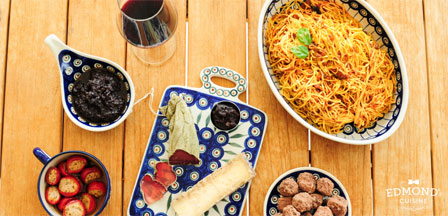 How often do you stop and wonder what's behind the food you eat every day…how it is made, who makes it and where the ingredients are sourced from?
Food labels in supermarkets go a long way to satisfying our curiosity about the provenance of the food we buy, but what about those special, authentic dishes you experience when travelling abroad or, very occasionally, when dining in a top restaurant with dishes produced by a locally or even world-renowned chef?
Recognizing a gap in the Swiss market for top quality food created with passion and with a story to tell, Italian entrepreneur and amateur food connoisseur, Luigi Matrone, has just launched a subscription service for authentic, curated fine food delivered directly to members' homes throughout Switzerland each month. Set up with the help of 4 other Italian shareholders, Edmond's Cuisine, is targeted at members keen to discover everything there is to know about the food they are eating, all of which has been sourced from small artisanal producers, carefully selected from different locations around the world.
Luigi explained to knowitall.ch, "Edmond's Cuisine menus come directly from the producers, the protagonists of the story we tell. They have been designed to change the way we enjoy great products. Eating is only one part of it. Knowing is the other."
Under the terms of the subscription service, new members can expect to receive a box of food once a month, including a full dinner with entrée, main course, dessert and wine. Members can also expect, through the use of QR codes that they can scan with their smart phones, to receive videos and stories about the food provided, helping them to create a picture in their mind of the story behind the food and the journey it has taken to reach their doorstep! The idea, Luigi says, is to give members the impression that they are meeting the vintners, cheese makers, and butchers themselves!
Luigi continued, "Simple pleasures require careful attention – whether you provide or enjoy them. As members learn more about the "providers", their senses will be sharpened over time. If they know about the philosophy, passion and provenance of the dedicated people producing fine authentic food, they will better understand its true original value. With each box that they receive, they will appreciate more and more the beautiful essence of rare, yet down-to-earth specialties, their original authentic taste, the region they come from and the people creating them. "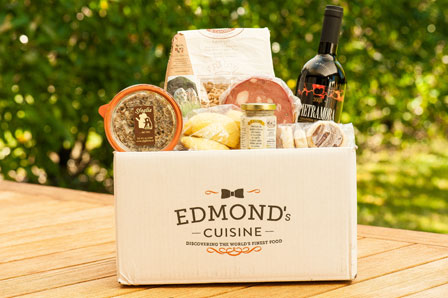 "When you receive a curated meal from Edmon's Cuisine, it is like dining with the locals. Each dinner menu has been carefully selected so that it is easy to prepare and can be be enjoyed at home with family and friends. Each course – from the starter to the dessert – builds on one another; like musical notes lined up in perfect order to create a flawless harmony. Each refined piece of your dinner's fine food is deeply infused with the authentic flavor of the carefully selected region it is indigenous to. Every box provides an inside look into an authentic, native food culture only locals would normally be privy to."
Asked what makes his service special compared to other delivery services in the region, Luigi replied, "While subscription services certainly exist in Switzerland, no one offers what we offer. The time we spend with the celebrated chefs in each of the territories we operate, identifying the producers, testing their quality, passion, and production methods, and then developing content for them, is an invaluable asset that only we can pass on to our customers. The artisans we work with are at the top of the quality food chain, producing premium, authentic food, delivered with passion to our members' doors!"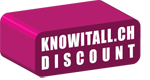 As a special introductory offer to knowitall.ch readers, Luigi is offering two discount options for those keen to try out the new service from Edmond's Cuisine. With the TRIAL OFFER option, readers will receive 35% off any first month's membership, paid on a month-by-month basis, when using the discount code KNOWITALL35. With the MULTIPLE MONTHS OFFER, readers can claim Fr. 75.- off any 3, 6 or 12 month membership using the discount code KNOWITALL75. To sign up for the new service, visit the Edmond's Cuisine website at www.edmondcuisine.com.
Luigi concluded, "Anyone who is curious about food, is open-minded, and wants to discover and experience authentic food in their own home, is welcome as an Edmond's Cuisine member. Those registering for 12 months will have the privilege of becoming an Ambassador and participating in our closed door tasting events, which take place every month and which allow us to test upcoming box products in our office in Geneva."
Indeed one Ambassador, Giovanni Porcellana, told us, "I am one of the very early customers and actually an Ambassador. What I love in what they do is the mission they have, helping small producers and giving us their very best crafts with the videos and stories that enrich them. The experience they create around their products is really unique and valuable."
Edmond's Cuisine
www.edmondcuisine.com