Edible images for personalizing your cakes are becoming all the rage in the Switzerland. If you want to personalize your cake but don't have the time or skill to decorate it yourself, then it is now possible to send your photo to an edible image maker, who will make an icing photo out of your image that can be used to adorn your cake.
As one of the first suppliers of edible images in Switzerland, local image maker Gât-Oh! likes to remain one step ahead of its competitors, and has nearly 20 different formats within its standard product range. Set up in Founex, by local mom, Gabrielle Lytras, Gât-Oh! has received orders from over 1200 customers since it first launched in 2008.
Gabrielle told knowitall.ch, "I first got the idea for the business when my children were changing daycare centers and I wanted to give a present to the ladies who were looking after them. My idea was to give biscuits with edible pictures of the children on them. When I couldn't find anyone to supply the images in Switzerland, I realized this was a potential business opportunity that needed to be investigated."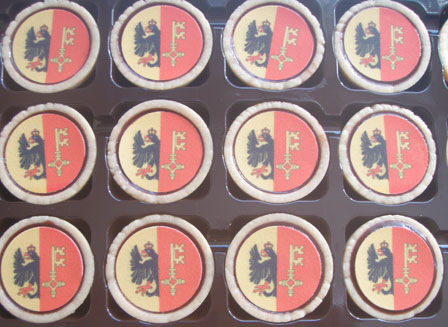 She added,"It took me about a year to get everything sorted, but once I realized that there was a definite market for this kind of thing, I didn't hold back! After nearly 5 years in business, we now have long-lasting relationships with renowned chocolatiers, bakeries, caterers and restaurants, including Rapp, Cuppin's, The Heidi Bakery, Traiteur de la Châtelaine, DSR, MasterChef contestants, students from the Ecole Hôtelière de Lausanne and many more."
Recently, Gabrielle has been doing a lot of work with branding and communication companies, looking for edible company logos and images to support their brand. With very short lead times, Gât-Oh! can produce images within just a few hours, meeting the most demanding large-quantity orders in time.
Prices range from just Fr. 17.- for a single round image on Azyme paper measuring 6.3" in diameter, through to Fr. 22.- for a single fondant sheet of 42 images, measuring 1.2" in diameter. Rectangular images vary from Fr. 21.- for a 7.5" x 9.6" sugar paper image, through to nearly Fr. 40.- for an A3 sized fondant image. Prices include the cost of scanning and resizing your picture, adding text, editing images, preparing a draft image for review, and shipping the final edible image. Orders need to be placed at least one week before the shipping date. There may be additional costs for special deliveries, although these will be indicated prior to starting the printing process. Click here for more details on their website.
To place your order, all you need to do is send an email with a copy of your image to Gât-Oh!, including details of any modifications that you would like to be made, such as removing the background, or combining images. You should also include the text that you would like to be added, and specify the format you would like for your edible image. Most image types are accepted. If you only have a printed version of your photo, then Gât-Oh can scan this with their high definition scanner for you. Click here for more information.
Once you have received your edible image, it can be kept in its zip-bag, in a dark place, for several weeks until you are ready to use it. Full instructions are provided on the Gât-Oh! website, showing clients how to transfer their images to their own cake when it is ready. The procedure varies according to the type of edible paper provided – so be sure to check the website before you transfer your image!
If you're not sure what kind of image you would like to use on your cake, Gât-Oh! has a range of edible images that can be ordered online, much reduced in price compared to their customized images. The range includes many popular children's characters such as Sponge Bob Pants, Spiderman, Hello Kitty, Winnie the Pooh and Mickey Mouse, to name but a few. Browse the website shop to see the full range of pictures available.
Gât-Oh!
Chemin des Champs-Blancs 5
1297 Founex
079 471 80 38
www.gat-oh.ch
This email address is being protected from spambots. You need JavaScript enabled to view it.