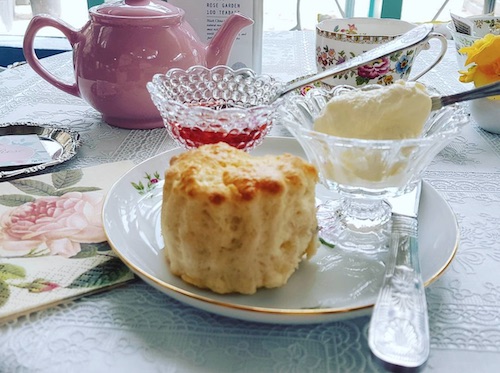 As much as we love a pain au chocolat with a juice in the morning or an eclair with un café in the afternoon, we all like to reminisce about foods from our homeland. Upon hearing about Venus and Rose in St-Triphon, near Ollon, we immediately got in touch with owner Michelle Cerusini. Michelle explained to knowitall.ch that she is South African but grew up in very colonial Zimbabwe, where her love for a proper cuppa began. We asked her a few questions so read on and bon appétit!
When and why did you open Venus et Rose English Tearoom?
Venus et Rose opened in June 2017. My work contract ended a few years earlier, I wanted to do something close to home so I could spend more time with my teenagers and didn't want to go back to 100% IT jobs. The La Jardinerie de St-Triphon Garden Center is close to home and I had always bought my plants and other lovely things there so I approached them about the tearoom, to introduce the concept of having a place to eat/drink in a garden center, something which is common in the UK and South Africa. It took almost 4 years of changing owners of the garden center, business planning, and permissions to finally open Venus and Rose.

What is behind the name?
My formidable, legendary great Aunt was called Venus, and my daughter's second name is now Venus. Rose is to recall our location, the garden center and flowers, and it works in both English and French.
Do you make all your own cakes and pastries?
My speciality are the scones, and I do some cakes when required, but I'm lucky to have a group of very gifted friends who bake their amazing things for the tearoom.
Canal 9 TeaTime from Michelle Cerusini on Vimeo.
What is your favorite tea? How do you make the perfect cup?
I try out all the teas usually and I do like most of them, my current favourite is Coffee Truffle Black Tea, my least favourite is Blue Butterfly Pea Flower. We serve our teas in teapots with fine bone china teacups, so it automatically tastes great. We had the TV station, Canal 9, do a teatime video on the tearoom and we made a 'perfect' cup of tea on film (see above).
Who is your typical client?
I don't think we have one… we have all age groups, men, women, families, couples, groups, clubs, anglophones and locals. Even a group of bikers last week for a cool drink. We're always surprised.

Do you have plans to open another Venus et Rose English Tearoom in another town in Switzerland?
Yes, the business plan always included more than one. It's quite difficult finding the right environment because the aim is to keep the garden center concept.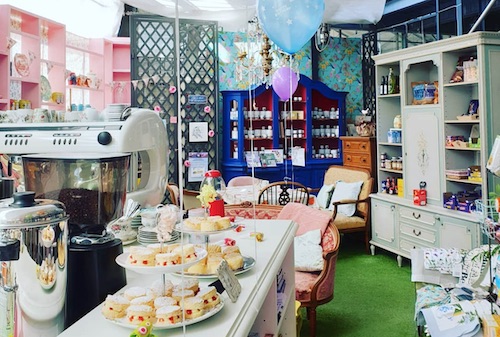 You also sell non-food items
We are Annie Sloan Chalk Paint™ Stockists, and we run paint workshops regularly. We recycle old china and make bird houses, bird feeders and pin cushions to sell. We have a network of amazingly creative ladies who crochet, paint, sew, knit, make lovely things for us to sell. We stock Flamingo Stationery and most of the sales go towards charity. Archie's Bonbons and Happy Dogs keep our furry visitors happy with healthy homemade snacks and natural products.

Venus and Rose Tearoom is located within La Jardinerie de St-Triphon
The garden center has a super selection of plants, garden equipment, bird and animal products and boutique items, and their service is friendly and warm. The tearoom keeps the same hours generally as the garden center Mondays 13h-18h, Tuesday through Friday 8h30-18h, Saturday 8h30-17h. Special opening on Sundays for special events or occasions. There is a large free parking area for the garden center.



As a thank you for the article, Michelle has kindly offered a Tea for Two with Scones (value: Fr. 21.-) to one lucky knowitall.ch reader! To enter the competition just fill in this form and answer this: What is Michelle's current favorite type of tea?
Only one entry per person and per email is allowed. The competition closes at midnight on Wednesday, 25 September 2019. The names of all those submitting correct answers will be placed into the digital hat and the winner's name drawn at random on Thursday, 26 September 2019. The winner will be notified by email and his/her name will be added to this article after the competition closes. The prize must be used by 30 November 2019.
Special events coming up:
Saturday, 12 October 2019
6e Marché des Sens
Come and discover many local craftsmen and tasting stands with a brisolée from 11h30.
Saturday, 19 October 2019
English beer tasting and live quarter finals of the Rugby World Cup on the screen!
Venus and Rose Tearoom
inside La Jardinerie de St-Triphon
Le Bruet
1867 St-Triphon
Michelle Cerusini
079 752 21 47
This email address is being protected from spambots. You need JavaScript enabled to view it.
www.venus-rose-tearoom.ch
www.facebook.com/venusetrose
www.instagram.com/mcerusi
COMPETITION WINNER: K i m b e r l y W e s c l i t z "We enjoyed our English tea and it was definitely some of the best scones we've ever had! We would recommend it to anyone wishing to enjoy a peaceful afternoon tea. Thank you for the lovely treat!"