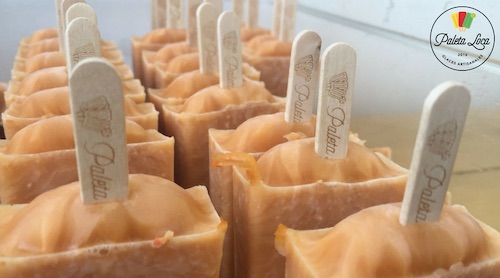 If you want to keep the sunshine of summer fresh in your memory, then why not try some refreshing paletas? Read on to find out what they are! Arnaud Golay and Benoît Bryand are offering a voucher for some frozen Paleta Loca popsicles to one lucky reader, read below! Here is the interview with Paleta Loca.
Can you explain your company name?
We chose Paleta Loca because paleta is the typical popsicle from Mexico. We discovered it in Mexico and wanted to develop it in Switzerland. Paleta keeps the origin of the product, and the way we produce it as well, as we produce exactly the same way as they do in Mexico. Then, we wanted to add a word that everyone can understand, and that represent who we are and what we want to do. We wanted something fun, that we could easily use to promote the product. Finally, we wanted a name that can easily stay in mind, people don't forget: Loca = crazy in Spanish.
When did you start?
We went to Mexico in January 2016 to learn with paleteros how to produce paletas, then we bought a machine from Mexico and we started the production in Switzerland in May 2016. At this time we were both still students at the Ecole Hotelière de Lausanne (EHL) and worked on it full time during our summer holidays.
Why popcicles? What is your background?
We started this project for different reasons.
Arnaud explains: First, I discovered paletas travelling in Mexico and found it good, cool and with many positive points for the Swiss market (100% natural, low sugar, no additives, real taste of the fruit, low calories, no intolerances...) so I thought it could work in Switzerland during summer. I was 18 and had no idea how to start a business.
Then I attended EHL, and during my last year I felt I was ready to start. I ask my best friend Benoît to join as it would be more fun to do together.
Finally, it was the perfect business to start as a student, as we had a very small budget. We invested Fr. 5'000.- each to buy a machine, some sticks and some packaging, and we started to sell paletas. Then the company grew. No profit was made at the beginning.
What was your inspiration?
Inspiration is the paleteros in Mexico, we like the authenticity of their work and products. Then we try to adapt to the Swiss market as much as possible.
What was your biggest obstacle when putting this venture together?
We had to face many many obstacles. Where to put the machine and the production? How to turn a profit with little stock? Where to sell the first ones? How to promote it?
Which one of the flavors is your favorite and why?
We like in particular all the flavors using local fruits. Their are made with fruits from local Swiss farmers. We offer the best seasonal fruits and taste in our paletas. When it is not the strawberry season, you cannot find the strawberry paleta. Some people think it's a shame, we think it is respect of the seasonality and of what our environment can offer us.
I see you have fun combinations like mojito, coco/chia, or apricot/verbena.
We always try to upgrade and improve our flavors. Every year, we do some new flavors that people can taste and put comments. Then we keep all the best flavors (keeping the best from the past years as well).
What type clients are you targeting?
We target people that take care of what they eat and are happy to pay a little bit more for a good product. In more that our 60 independent partners (people eat at the sales point), we are now selling in shops like Manor or Picard surgelés, and online on Farmy.ch and Leshop.ch. Young families chose it for their children (more healthy than ice cream).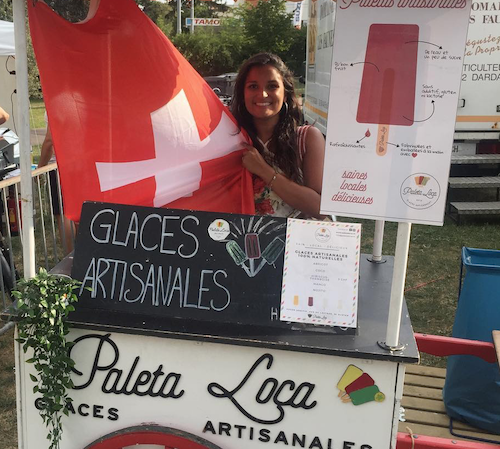 Would you think your biggest season will be summer or will you have some winter or festive flavors or different shapes?
Of course summer will always be our biggest season. But we are working to develop new projects for winter as well.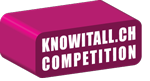 As a thank you for the article, Arnaud and Benoît have kindly offered a discovery box with different flavors of their paletas (value: Fr. 50.-) to a lucky knowitall.ch reader! To enter the competition just fill in this form and answer this question: From which country does "paleta" originate?
The winner must pick up the box at one of the following locations (make sure to bring a cooler with you for transport!):
— Savigny: ch. du Geffry 9, 1073 Savigny
— Ouchy: Quai Jean-Pascal Delamuraz 1, 1006 Lausanne
Only one entry per person and per email is allowed. The competition closes at midnight on Tuesday, 3 September 2019. The names of all those submitting correct answers will be placed into the digital hat and the winner's name drawn at random on Wednesday, 4 September 2019. The winner will be notified by email and his/her name will be added to this article after the competition closes.
Paleta Loca is sold at the locations at this link.
Paleta Loca
Arnaud Golay
Benoît Bryand
This email address is being protected from spambots. You need JavaScript enabled to view it.
www.paletaloca.ch
CONGRATULATIONS TO THE COMPETITION WINNER: Marcela Bonk, Nyon