We were recently contacted by Elizabeth Ballin - Life Coach, who came highly recommended. We asked her a few questions so our readers could get to know her better.
Tell us why you decided to start coaching
Coaching came to me when I was being coached myself. I was looking for something to do in my life that would really tap into my creativity and desire to be of service to people. My original thought was to help the expatriate community in Geneva who were here sometimes for only a few years, to feel more settled and to find ways to self-develop. Being American/Swiss I was very aware how difficult it was to feel a part of my adopted country when I first arrived here.
As I was being coached, I realized that Life Coaching was really a very good way to help anybody — no matter where they are, what they are doing or not doing — to rethink and redesign their lives in accordance to their present situation. Life Coaching works on constructing solutions and seeking strategies through discovering one's natural and internal resources and creativity to deepen one's understanding of what is available to them in any environment or circumstance.
My coaching includes students and adults in different stages of their life both professionally and non-professionally. I often coach people who are faced with change and who are looking for ways to find their path, such as divorce, career change or retirement. Over the past few years, I also have been working with college-bound students at the International School to help them get greater clarity on their academic choices and life purpose.
What is biggest obstacle you have had to overcome?
Trying to explain to people what Coaching is and what coaching is not! Just a few years ago, most people thought coaching was someone who trained you. Coaching is not this at all! It is, in fact, advice-free! I would say nowadays, a lot of people are familiar with coaching.
There are business coaches, life coaches, health coaches, etc, and who are often employed by big companies. I think coaching has proven to be a very good way to get people to thrive and flourish no matter what area they need to be coached in. So, to get back to the question, how did I overcome the obstacle? The benefits of coaching are now being understood on a much broader scale, so it is much easier to explain what I do.
What are your plans for the future?
At the moment, I am very interested in continuing my education in this area. I have recently become a certified Mindful Practitioner which really goes hand in hand with coaching, and I am convinced that there is much more to learn and understand in this area. There is a whole field of psychology that is focusing on the science of well-being, positive interventions and character strengths, that is being implemented in schools, businesses and governments with the aim to get people to reach their full potential and the inevitable positive impact that transpires. Coaching can play a big part in this growing field, and my aim is to grow with it.
What two of Elizabeth Ballin's clients have told us
One client told knowitall.ch, "Initially I went to Beth due to issues which arose with menopause - anxiety and depression amongst others. We initially focused on my physical health as a way of boosting my overall well-being. I found her extremely calm and her way of working with me helped clarify my capabilities, and showed me what worked best for me to cope with these emotional situations. After a year of working with her on a regular basis, I found I had a much better grip on what is important to me and how I could use the skills she has shown me to cope with life going forward. I would highly recommend her."
And another client related this, "I was at a real crossroad in my life and feeling anxious and stressed at my inability to not only reach a decision but to even consider the possibilities. Beth helped me overcome this roadblock by guiding me through the process of really discovering what I wanted and then helped me gain the strength and motivation to pursue my dreams. Several months later, I not only knew what I wanted, I knew where to find it and started taking the steps to make my new life a reality."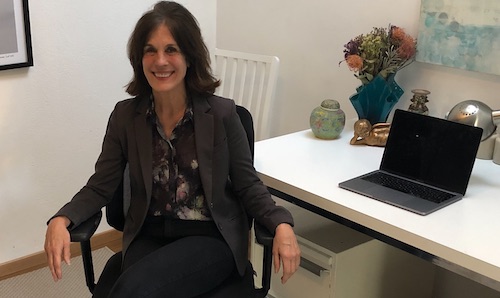 About Elizabeth Ballin
She has lived in Geneva most of her life, arriving as an expat child and returned to the US for school. She returned to Geneva with young children and has worked as an artist and as a coach in different areas including working with refugees.
Elizabeth Ballin - Life Coach
076 364 66 31
www.ballincoaching.ch
This email address is being protected from spambots. You need JavaScript enabled to view it.