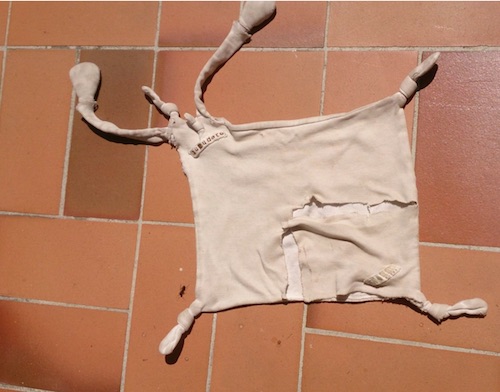 Since time began, security blankets and soft toys have been the bane of most parents' existence. The dependance and comfort a child gets from this attachment has long been studied by doctors, scientists, psychologists, and psychiatrists! They refer to them as transitional psychological supports that give concrete emotional reassurance. Yes, on one hand, there are real advantages; on the other, tantrums and stress when they are lost, missing, in the wash, or tattered to the point of no return can be disturbing. A beloved stuffed animal, a soft edged blanket, or a scrap of fabric that is unrecognizable to the average beholder is a must-have accessory in the sight of the youngster!
In English, the proper names and synonyms are often altered by the child but start off as:
In French, they fall under the following appellations:
doudou
toutou
nin-nin
peluche
Of course, these names are often renamed by the child.
Non-negociable
One of the biggest assets to the owner of a doudou is the undeniable smell it holds. As a parent, you are lucky if you find out what the favored object is when they are very young and are able to get at least one replacement item or, for a blanket, cut it up into smaller segments that can be in alternating states of cleanliness!
The unthinkable
What happens when the fluffy bunny is dropped on the train, the rag is left hanging on a branch on the side of the road, or the misshapen soft toy is abandoned in a park? For some very lucky children (and parents), they are reunited through an amazing online network. The expression: necessity is the mother of invention, rings very true in this case. Doudouperdu.ch, a website reuniting children and their transitional objects, was founded by a mother who understands the importance of these emotional supports, Maïté, who decided in 2012 that something must be done, created a wonderful website that has now published over 2,000 blankies, soft toys, and other shredded bits of fluff that have created peace on earth again!
Maïté told knowitall.ch, "Some owners are found, others not. About 40 doudou per month are published, including during the school holidays. There are less found during the cold winter months. We cover the whole of Switzerland but mainly reunite pairs in the French-speaking area."
The site is categorized by cantons: Bern, Fribourg, Geneva, Jura, Neuchâtel, Valais, and Vaud. You can either publish items found (doudous trouvés) or post a photo of what you are looking for (doudous perdus) if you are lucky enough to have a photo of it in its current state. A category entitled Jumeau (twin) lets parents do the "ol' switcheroo" if they are lucky enough to find an identical one. If you are desperate, you and your child can visit the adoption page of the site if all else fails.
How it works
Go to the page ajouter. Fill out description and attach a photo, choose which category you would like to use (lost, found, twin, adoptions), canton, and email address. There is a simple math problem to prove you are not a robot. Then simply click save! Thanks to Maïté for such a great initiative!
Doudou Perdu
Maïté
www.doudouperdu.ch